LarkMan.EXE, known as SwallowMan.EXE (スワローマン, Suwarōman?) in Japan, is a NetNavi that appears as an optional boss in Mega Man Battle Network 5 in Undernet 1. He is referenced on the SciLab BBS as a "cyber-lark" that someone saw flying into the Undernet. Despite his English name, he does not resemble a lark at all. He considers himself the freest of birds and doesn't have an operator. The player can fight him for his Battle Chips.
Anime History
In Stream, Larkman is a Darkloid who serves Dark Rockman.EXE. He is almost constantly seen teaming up with CloudMan who is also a flying Darkloid. In the end both are deleted by the Cross Fusion team, with SwallowMan being easily defeated by CF Mayl, Jasmine and Miyabi.
In Beast, Zoano Larkman is a servant of the Falzar Army. In episode 11 of the series, he comes to aid Zoano Gateman, another Falzar Navi. However, instead of helping Zoano Gateman fight off G-Beast Rockman, he attempts to capture Iris's Navi. He is ultimately deleted by R-Protoman.
Abilities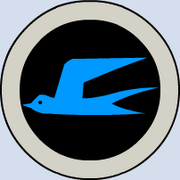 FloatShoes and AirShoes: LarkMan is constantly in flight, so he can hover over holes and is unaffected by the harmful effects of some panels.
Lark Cutter: LarkMan fires a bird at the player. It then curves around the back of the player's area and returns whilst aligned with the player's row if they have moved.
Lark Drive: Some panels will flash. LarkMan will then charge through those panels, hitting them.
Lark Dive: LarkMan dives down the row. If it connects it will destroy any chips and Program Advances the player has loaded.
Mega Man Battle Network 5
| Battle Chip ID | Image | Name | Description | Damage | Element | Rarity | Code(s) | Memory |
| --- | --- | --- | --- | --- | --- | --- | --- | --- |
| Mega Chip 52 | | LarkMan | Whirl forward and atk | 140 | None | *** | S | 45 MB |
| Mega Chip 53 | | LarkMan SP (LarkMnSP) | Whirl forward and atk | 170 | None | **** | S | 77 MB |
| Mega Chip 54 | | LarkMan DS (LarkMnDS) | Whirl forward and atk |  ??? | None | **** | S | 77 MB |
Gallery
Video
Ad blocker interference detected!
Wikia is a free-to-use site that makes money from advertising. We have a modified experience for viewers using ad blockers

Wikia is not accessible if you've made further modifications. Remove the custom ad blocker rule(s) and the page will load as expected.