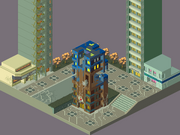 Kotobuki (コトブキ, Kotobuki?) is a town from Electopia in the Mega Man Battle Network series that only appeared in Mega Man Battle Network 2.
The Kotobuki town is accessible via the Metroline using the KotoPass which Lan Hikari's father, Yuichiro Hikari, will give to him near the end of the game. Gospel's headquarters is in a building from Kotobuki. Gospel's server is located in the top of the building, where MegaMan faces the Gospel beast.
Kotobuki Area
Kotobuki Area (コトブキエリア, Kotobuki Area?), Koto Area for short, is the Internet area from Kotobuki town.
Interest Points
Ad blocker interference detected!
Wikia is a free-to-use site that makes money from advertising. We have a modified experience for viewers using ad blockers

Wikia is not accessible if you've made further modifications. Remove the custom ad blocker rule(s) and the page will load as expected.