Killer Bomb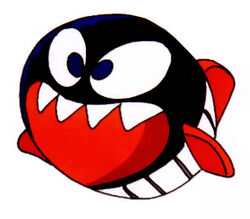 {{{nickname}}}
{{{number}}}
{{{numberb}}}
Information
In-Game Information

Command Mission Stats

Type
--
Level
Life Energy
--
--
Fire
--
Exp.
--
Water
--
Zenny
--
Thunder
--
FME
--
Power
Armor
Shield
Speed
--
--
--
--
Steal
Drop
--
--

List of Abilities
Ability
Effect
{{{ability1}}}
---
{{{ability2}}}
---
{{{ability3}}}
---
{{{ability4}}}
---
{{{ability5}}}
---
{{{ability6}}}
---
{{{ability7}}}
---
{{{ability8}}}
---
{{{ability9}}}
---
{{{ability10}}}
---
{{{ability11}}}
---
{{{ability12}}}
---
{{{ability13}}}
---
{{{ability14}}}
---
{{{ability15}}}
---

Points:
800
HP:
1
Attack Damage:
3
Weakness:
Mega Buster
Misc. Information
Alt. Name(s):
Killer Bullet
Series Information
In-game Appearances:
Mega Man
Mega Man: The Wily Wars
Mega Man: Powered Up
Other Appearances:
Mega Man cartoon opening
Mega Man: Upon a Star
Rockman Megamix
Killer Bomb (キラーボム, Kirā Bomu?), known as Killer Bullet in some English sources, is an industrial bomb robot created to explode distant objects. In the first Mega Man game, they appear as enemies in Bomb Man's stage, Fire Man's stage and in Dr. Wily's Robot Manufacturing Plant that explode on impact or when damaged.
A giant Killer Bomb has a cameo appearance in the stage Dr. Wily's Military Base from Marvel vs. Capcom.
An industrial robot created to blow up distant objects. You'll take damage if it detonates too close to you.
Other media
Killer Bombs, along with Pipis, Bomb Man and Napalm Man, were part of Dr. Wily's attack on the city in the Mega Man cartoon show opening. They only make their cameo in the opening and don't appear in any of the episodes.
Killer Bombs appear briefly in the Mega Man: Upon a Star episode Future Beware.
In the Captain N: The Game Master episode Videolympics, Dr. Wily fired a shark-like projectile that resembles Killer Bomb to eat Kid Icarus's vehicle.
In Mega Man Megamix, Cut Man sends several Killer Bombs, Bunby Helis, and Flying Shells to take down a jet, but they are destroyed by Mega Man.
In the Rockman manga, Killer Bombs appear in the stages of Fire Man, Bomb Man, and Wily's fortress.
Gallery
Trivia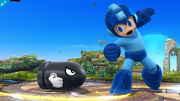 Killer Bombs look similar to Bullet Bills from the Mario series, especially the Banzai Bill variety from Super Mario World. Also of note is that Bullet Bills are known as "Killers" in Japan, and Killer Bombs are known as Killer Bullets in some English sources, such as the first game's manual and in Mega Man Powered Up.
See also
Ad blocker interference detected!
Wikia is a free-to-use site that makes money from advertising. We have a modified experience for viewers using ad blockers

Wikia is not accessible if you've made further modifications. Remove the custom ad blocker rule(s) and the page will load as expected.