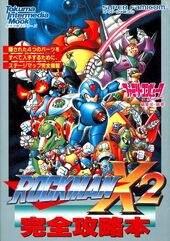 Kanzen Kouryaku Hon (完全攻略本, Kanzen Kouryaku Hon? "Complete Capture Book") is a series of strategy mooks (a portmanteau of magazine and book) published by Tokumashoten Intermedia, a Japanese company established as a subsidiary of Tokuma Shoten in 1985 to publish gaming content and that merged with its shareholder in 1997. Tokumashoten Intermedia published some mooks from the Mega Man franchise.
Rockman mooks
Ad blocker interference detected!
Wikia is a free-to-use site that makes money from advertising. We have a modified experience for viewers using ad blockers

Wikia is not accessible if you've made further modifications. Remove the custom ad blocker rule(s) and the page will load as expected.