Kalinka
Talk

4
3,568pages on
this wiki
Kalinka Cossack
{{{nickname}}}
{{{number}}}
{{{numberb}}}
Information

Command Mission Stats

Type
--
Level
Life Energy
--
--
Fire
--
Exp.
--
Water
--
Zenny
--
Thunder
--
FME
--
Power
Armor
Shield
Speed
--
--
--
--
Steal
Drop
--
--

List of Abilities
Ability
Effect
{{{ability1}}}
---
{{{ability2}}}
---
{{{ability3}}}
---
{{{ability4}}}
---
{{{ability5}}}
---
{{{ability6}}}
---
{{{ability7}}}
---
{{{ability8}}}
---
{{{ability9}}}
---
{{{ability10}}}
---
{{{ability11}}}
---
{{{ability12}}}
---
{{{ability13}}}
---
{{{ability14}}}
---
{{{ability15}}}
---

Misc. Information
Script:
カリンカ・コサック
Romaji:
Karinka Kosakku
Gender:
Female
Age:
9 (Mega Man 4)
14 (Rockman ×over)
Eye Color:
Dark green
Hair Color:
Blonde
Series Information
In-game Appearances:
Mega Man 4
Rockboard
Mega Man's Soccer
Rockman ×over

Kalinka Cossack (カリンカ・コサック, Karinka Kosakku?, Russian: Калинка Казак) is the nine-year-old[1] daughter of Dr. Cossack. Dr. Wily kidnapped her to force Dr. Cossack to fight Mega Man in Mega Man 4, but Mega Man and Dr. Cossack stopped their fight when Proto Man saved her and reunited her with her father. She is skilled at ballet dancing and playing the piano.[1]
In the version of Mega Man 4 that was featured in Mega Man: Anniversary Collection and Rockman Complete Works, Kalinka plays the role of Mega Man's navigator if Navi Mode is enabled in the options menu. Even after being rescued, she will still continue to support Mega Man throughout the rest of the game as an act of gratitude.
She and her father first appear as player-controllable characters in Wily & Right's RockBoard: That's Paradise. In this game, she hopes to build a lot of castles in the world and realize her dream of becoming a princess. She also appears with Roll carrying a banner in the end of matches of Tournament Mode in Mega Man's Soccer. In Rockman ×over, Kalinka is 14 years old, and serves as OVER-1's navigator.
Other media
Kalinka appears in Archie Comics' Mega Man comic series and in the manga Mega Man Megamix, Mega Man Gigamix, Rockman 4, Rockman: Yomigaeru Blues, and Rockman 8.
Gallery
Trivia
She may be named after the popular Russian song "Kalinka", which is appropriate since many Classic characters' names are references to musical terms and it also fits her Russian heritage.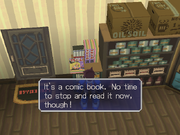 Kalinka, alongside Roll, Splash Woman and Plum are the only female main characters in the classic series.
Despite such a minor role in the game, she manages to be the character who fits most of the stories in Mega Man Megamix, thanks to her profile in Mega Man Megamix Vol. 3. She was 9 when Mega Man 4 took place, she was 12 in "Grim Reaper of Ressurection," and 14 in "The Greatest Enemy in History."
It's hinted that she may have romantic feelings for Mega Man as shown in an artwork of R20 Rockman & Rockman X Official Complete Works.
Kalinka's hat is known as an ushanka (Russian for "ear hat").  These hats were once worn by cossack soldiers before the Soviet Union was formed, eventually becoming a popular winter hat outside of Russia.
Kalinka's appearance in Rockman ×over is very similar to Caitlin's Elite Four appearance in Pokemon Black and White.
References