Jazwares is a toy company based in Florida that released Mega Man action figures in the 2000s.
Mega Man series
Mega Man is an 6" action figure line released in 2003-2004.
Mega Man Retro-Roto
Mega Man Retro-Roto is a line of Mega Man PVC action figures released in 2005. The characters are designed like their original appearances in early games. Each of them has one of the five pieces necessary to assemble an action figure (the package incorrectly claims that six pieces exist). The action figure is a recolored Mega Man representing him with the Mega Buster fully charged. They were later re-released in 2010 without the parts for the fully charged Mega Man.
First series:
Second series:
The back of the package shows an image of Wood Man and Ice Man for a second wave planned to be released, but the line was canceled.[1]
Also, a third wave possibly including Metal Man, Skull Man, and Bass was planned.[2]
Ultimate Armor Kit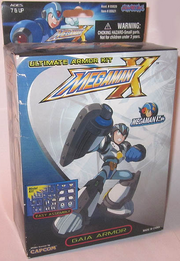 Ultimate Armor Kit is a series of model kits.
Other releases
Mega Mini Pack (a set with 3" figures of X, Zero, Axl, and Vile)
10" Mega Man
10" Mega Man X
10" Axl
10" Zero Nightshade
Ride Chaser (14" Ride Chaser with friction motor and sound; comes with a 6" Axl figure)
Dr. Wiley's Lab (playset with several features and a 6" Dr. Wily figure)
Wrecking Station (diorama playset with magnetic Mega Man and Bass miniatures)
Mech Factory (diorama playset with magnetic X and Sigma miniatures)
Role play buster with foam darts
Gallery
6" Mega Man figures
Mega Man Retro-Roto
Others
Trivia
The X figure from the Mega Mini Pack appears on the film Just My Luck. It is stuck on Katy's face when she first appears.
The Cut Man figure appeared in the Mega Man Universe trailer.
External links
References
Ad blocker interference detected!
Wikia is a free-to-use site that makes money from advertising. We have a modified experience for viewers using ad blockers

Wikia is not accessible if you've made further modifications. Remove the custom ad blocker rule(s) and the page will load as expected.