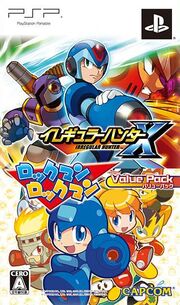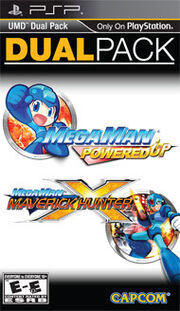 Irregular Hunter X / Rockman Rockman Value Pack is a collection for the PlayStation Portable including Mega Man Maverick Hunter X (Irregular Hunter X) and Mega Man Powered Up (Rockman Rockman), released on September 17, 2009 in Japan, and on September 16, 2011 in North America as Dual Pack: Mega Man Powered Up / Mega Man Maverick Hunter X. The games are the same as their separate versions, but early copies include a limited original soundtrack with 30 music tracks, 15 from each game.
Track list
Track list of the limited soundtrack: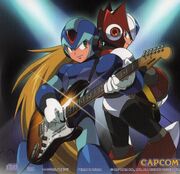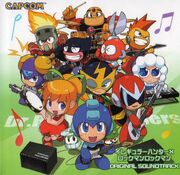 Title -Irregular Hunter X-
Opening Stage -X's theme-
Stage start
Launcher Octopuld stage
Icy Penguigo stage
Boomer Kuwanger stage
Sting Chameleon stage
Spark Mandriller stage
Armor Armarge stage
Boss battle
Sigma stage 1
Sigma stage 2
Sigma battle 1
Sigma battle 2
VAVA's theme
Title -Rockman Rockman-
Opening Stage -Rockman's Theme-
Stage start
Cutman stage
Gutsman stage
Fireman stage
Elecman stage
Timeman stage
Oilman stage
Boss battle
Wily Stage
Wily Boss Battle
End roll
Construction
Construction -Japan stage-
External links
Ad blocker interference detected!
Wikia is a free-to-use site that makes money from advertising. We have a modified experience for viewers using ad blockers

Wikia is not accessible if you've made further modifications. Remove the custom ad blocker rule(s) and the page will load as expected.