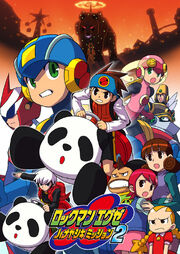 Hanayashiki (浅草花やしき, Asakusa Hanayashiki?) is an amusement park in Asakusa, Taitō, Tokyo that has operated since 1853. It is operated by Hanayashiki Co., Ltd., a subsidiary of Namco (later Bandai Namco). It is claimed to be the oldest amusement park in Japan. One of the unofficial mascots of the park is the Panda Car (パンダカー, Panda Car?).
Mega Man events
Hanayashiki had three Mega Man themed events.
The first event was based on the original Mega Man series and occurred from September 13 to November 26, 2014.[1]
The second event, Rockman.EXE: Hanayashiki Mission, happened in 2016 from February 6 to March 21 and was based on the Mega Man Battle Network series, celebrating the 15th anniversary from the series.[2]
Gallery
Rockman.EXE Hanayashiki Mission 2
Video
External links
References
Ad blocker interference detected!
Wikia is a free-to-use site that makes money from advertising. We have a modified experience for viewers using ad blockers

Wikia is not accessible if you've made further modifications. Remove the custom ad blocker rule(s) and the page will load as expected.