Hamma Hamma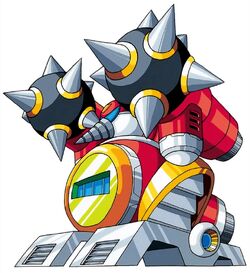 {{{nickname}}}
{{{number}}}
{{{numberb}}}
Information
In-Game Information

Command Mission Stats

Type
--
Level
Life Energy
--
--
Fire
--
Exp.
--
Water
--
Zenny
--
Thunder
--
FME
--
Power
Armor
Shield
Speed
--
--
--
--
Steal
Drop
--
--

List of Abilities
Ability
Effect
{{{ability1}}}
---
{{{ability2}}}
---
{{{ability3}}}
---
{{{ability4}}}
---
{{{ability5}}}
---
{{{ability6}}}
---
{{{ability7}}}
---
{{{ability8}}}
---
{{{ability9}}}
---
{{{ability10}}}
---
{{{ability11}}}
---
{{{ability12}}}
---
{{{ability13}}}
---
{{{ability14}}}
---
{{{ability15}}}
---

HP:
11
Attack Damage:
3 (contact)
2 (spiked fists)
Weakness:
Triad Thunder / Frost Shield
Misc. Information
Script:
ハンマハンマ
Romaji:
Hanmahanma
Series Information
In-game Appearances:
Mega Man X3

Hamma Hamma (ハンマハンマ, Hanmahanma?) is an enemy from Mega Man X3 that attacks with two flails. It appears in the stages of Neon Tiger, Crush Crawfish, and some of the final stages. It can easily be destroyed with the Triad Thunder or Frost Shield. Ray Splasher and Spinning Blade are also effective against them. Although Ray Splasher requires to be at point-blank range.
Similar Enemies
Ad blocker interference detected!
Wikia is a free-to-use site that makes money from advertising. We have a modified experience for viewers using ad blockers

Wikia is not accessible if you've made further modifications. Remove the custom ad blocker rule(s) and the page will load as expected.