Ad blocker interference detected!
Wikia is a free-to-use site that makes money from advertising. We have a modified experience for viewers using ad blockers

Wikia is not accessible if you've made further modifications. Remove the custom ad blocker rule(s) and the page will load as expected.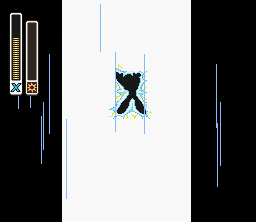 The Giga Attack (ギガアタック, Giga Attack?) is a powerful attack that can be used by X's armors. The most common version is the Giga Crash (ギガクラッシュ, Giga Crash? also called Giga Crush), a full-screen attack that damages or destroys all enemies seen on-screen. It first appeared in Mega Man X2 as the ability of the armor's body part, and appeared in all subsequent games after Mega Man X3.
The Giga Attack is not limited to X, however. Zero can also use his own versions of Giga Attack, as techniques learned from defeated bosses from Mega Man X4 onwards (and Mega Man Xtreme 2). His versions of the attack more closely resembles the original incarnations performed by some of X's armors.
Appearances in Games
Mega Man X2 and Mega Man Xtreme2
X: The armor from Mega Man X2 and Mega Man Xtreme 2 are the same, so the same Giga Attack is available. This is the first Giga Attack to be re-used for a future game. To be used, it requires a full weapon gauge, and usually the best way to charge it up is to deliberately take damage from projectiles.
Zero:
Mega Man X4
X: The Fourth Armor and the Ultimate Armor, both introduced in this game, can perform the powerful Nova Strike, a fast flying dash that destroys most normal enemies in its path. Although classified as a Giga Attack, it's the first in the series not to be a full-screen attack. It's also the most recurring Giga Attack in the series, since the Ultimate Armor appears in all subsequent games after X4 (with the exception of X7).
Zero:
Mega Man X5
X: Unlike the two armors from the previous game, the Falcon Armor's Giga Attack closely resembles the original. The Gaea Armor, however, stands out as having the shortest range for a Giga Attack in the entire series.
Zero:
Mega Man X6
X: Both Giga Attacks of the Blade Armor and Shadow Armor have limited range, since both involve the use of the Z-Saber. The former uses an upgraded Z-Saber slash (which can send energy waves forward), while the latter uses the Z-Saber to summon two large crescents to spin over and under X.
Zero:
Mega Man X7
X: The Glide Armor possesses a similar full-screen Giga Crash attack like that of the first Giga Crash and the Falcon Armor.
Zero:
Mega Man X8
X: For the first time, the Giga Attack has been replaced by the "Giga Ability", which is available when all four component parts of the same color are equipped in the Neutral Armor: red for Icarus, dark blue for Hermes. The armor's energy gauges can recharge as long as X is active in the field (switching him out halts the charge process). Both abilities can be used even if the energy gauge isn't completely full, only with less effective results: the Giga Crush's power and range is reduced, while the duration of the X-Drive depends on the amount of energy left.

The Icarus Armor's Giga Ability is the "Giga Crash", which works the same way as previous "Giga Crush" attacks.
The Hermes Armor's Giga Ability is the "X-Drive". When activated, a blue-colored energy field surrounds X and the Hermes' capabilities are given a boost: Head Parts H grants X the ability to charge his buster two times faster than normal; Body Parts H grants X double invincibility time whenever X gets hit by attacks; Buster (Arm) Parts H grants X a fourth-level Charge Shot which fires a 5-way shot; and Foot Parts H grants X double movement and dash speed.
Upon obtaining the Ultimate Armor, X automatically unlocks the Nova Strike, but unlike the version from older games, this one takes some more time to recharge, although it recharges way faster in comparison to the other two Giga Abilities. Also, unlike the older version, Nova Strike in X8 deals a massive amount of damage to all enemies, including the eight bosses, Sigma, and Lumine, making X able of defeating any enemy in the game in one or two attacks.

Zero:
Other Appearances
Screenshots
Trivia