Frost Man
Talk

1
3,568pages on
this wiki


Frost Man
{{{nickname}}}
DWN-062
{{{numberb}}}
Information
In-Game Information

Command Mission Stats

Type
--
Level
Life Energy
--
--
Fire
--
Exp.
--
Water
--
Zenny
--
Thunder
--
FME
--
Power
Armor
Shield
Speed
--
--
--
--
Steal
Drop
--
--

List of Abilities
Ability
Effect
{{{ability1}}}
---
{{{ability2}}}
---
{{{ability3}}}
---
{{{ability4}}}
---
{{{ability5}}}
---
{{{ability6}}}
---
{{{ability7}}}
---
{{{ability8}}}
---
{{{ability9}}}
---
{{{ability10}}}
---
{{{ability11}}}
---
{{{ability12}}}
---
{{{ability13}}}
---
{{{ability14}}}
---
{{{ability15}}}
---

HP:
40
Attack Damage:
5 (contact)
2, immobilize (Ice Wave)
4 (Ice Wave crush)
5 (Ice Punch)
2 (ice block push)
3 (ice block drop)
Weapon:
Ice Wave
Weakness:
Flash Bomb
Commando Bomb (Mega Man 10, Weapons Archive data)
Misc. Information
Kanji:
フロストマン
Romaji:
Furosutoman
Designer:
Akifumi Nomura
Eye Color:
Green
Series Information
In-game Appearances:
Mega Man 8
Mega Man & Bass (as a data CD)
Rockman Strategy
Mega Man 10 (cameo)
English VA:
Darryl Stogre
Japanese VA:
Wataru Takagi

Frost Man (フロストマン, Furosutoman?) is a combat Robot Master created by Doctor Albert Wily predominantly using several leftover parts from when he built Clown Man. Frost Man is one of the largest Robot Masters and physically very strong, which he is very proud of, and has the ability to punch the ground to generate fast surges of freezing cold energy using his Special Weapon, the Ice Wave, and can alternatively attack by dropping heavy blocks of ice down onto his opponents. However, he is none too bright, and due to his less-than-ideal method of construction, suffers from chilblains and poor oil circulation, and is vulnerable to explosives.
In Mega Man 8, he creates havoc in Alaska. When Mega Man enters his room, there are several ice statues of Mega Man inside, and Frost Man crushes them all. Frost Man appears to have something of a sweet tooth- his ultimate goal is to turn Mega Man into a Kakigōri (Or in the English version, an Ice Pop.) and eat him. He is also shown to have a liking for Sorbet and Rock Candy.
Data
Voices
Intro:
Taunts:
"Freeze!"
"I'll crush you! I'll make a popsicle of you."
"I'll crush you! I will...beat you."
Attack Shouts:
"Wow!"
"Huah!"
"Ice Wave!"
"I'll crush you!" (If Mega Man is hit by an Ice Wave)
Cries:
"Ow!"
"Dat hurt!" (hit by Flash Bomb)
Death:
Mega Man & Bass CD data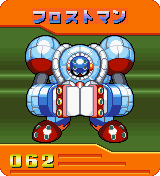 • CD data •
English data
A robot created from the leftover parts of Clown Man.
"Frost Man! Destroy! You!"
Good Point:
Everything hefty
Bad Point:
Stoutness
Like:
Sorbet
Dislike:
Chilblain
Japanese data
Bad Point:
Heavy
Like:
Rock candy
Dislike:
Chilblain
Stage enemies
Enemies in Frost Man's stage.
Gallery
Trivia
Frost Man has a cameo appearance in Mega Man 10 as data of the Weapons Archive, appearing in an 8-bit likeness of his original sprite.
Chilblain (Frost Man's dislike) is defined as "An inflammation followed by itchy irritation on the hands, feet, or ears, resulting from exposure to moist cold." American Heritage Dictionary
Frost Man is one of five ice-themed robots who create ice sculptures. The other four are Chill Penguin, Blizzard Buffalo, Cold Man, and Fenri Lunaedge. Also, he and Cold Man are the only ones from the original Mega Man series to have this talent.
When Mega Man fights Frost Man in the Wily Tower rematch, it should be noted that the Flame Sword can cause a considerable amount of damage to him.
Frost Man, Grenade Man, Astro Man, and Clown Man are the only Robot Masters in Mega Man 8 that don't have a MegaMan Battle Network series counterpart.
In the Japanese version of Mega Man 8, Frost Man wants to turn Mega Man into a Kakigori, a type of shaved ice dessert (flavored with syrup and condensed milk) found in Japan. In the English version of the game, the translation was changed so that he wants to turn Mega Man into a popsicle, which is much better known to Americans than kakigori. Ironically, Frost Man has no mouth to begin with.