Fly Boy (フライボーイ, Furai Bōi?), also known as Prop-Top in the Mega Man 2 instruction manual for the U.S., is a pogo-like toy that was modified by Dr. Wily into a robot that attacks by pressing its target. They appear infinitely from the top of the screen. After landing, they levitate up slowly for a bit, try to crush Mega Man swiftly, and repeat.
Video game appearances
Fly Boys appear in the stages of Crash Man, Heat Man, and the second Wily Castle stage. Its weakness is Air Shooter, but Metal Blade is also effective. They are green in Heat Man's stage and Wily Castle, but red in Crash Man's stage.
Fly Boys appear in one part of Crash Man's stage, but as it takes some time for them to appear, it is easy to miss them.
Hits Data Chart
Amount of shots/hits from Special Weapons it takes to destroy a Fly Boy.
Other media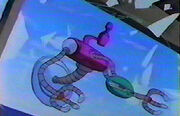 Fly Boys appeared in Captain N: The Game Master and Rockman: Dr. Wily no Inbou.
Ad blocker interference detected!
Wikia is a free-to-use site that makes money from advertising. We have a modified experience for viewers using ad blockers

Wikia is not accessible if you've made further modifications. Remove the custom ad blocker rule(s) and the page will load as expected.