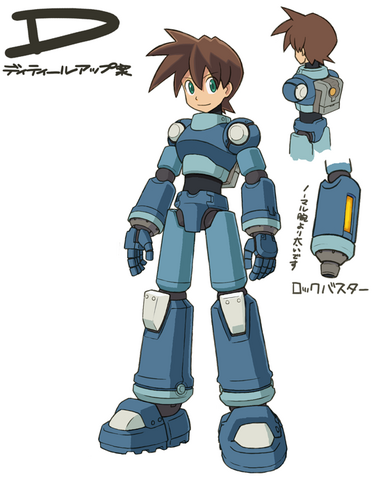 Summary
One of Mega Man Volnutt's design suggestions for Mega Man Legends 3, "Detailed Design" (2). Image from the game's Devroom.
Design notes
English: Based on the previous Design B. Taking MegaMan's look from Legends 1 and 2, I've upped the overall detail and the suit's mecha-like qualities. Taking your feedback into account, the new design features slightly widened hips and an overall enhanced sense of "mechanicalness", since this is how MegaMan will look when he's exploring the ruins. On the other hand, I've also taken care to make sure that the design won't prohibit him from delivering convincing performances in scenes where a certain degree of humanity is required.
As for the "undies", I've tried to more or less leave them as undies while making them look a little cooler. Did it work? It's probably better to stop using the term "undies", or that image will stick in everybody's head.
Japanese: 前回の「B案」に手を入れました。DASH1や2のイメージのまま、ディティールを増やしてメカっぽさを上げたもの。ご意見をもとに、腰を少し太くしました。
ロックのこの姿は遺跡探索用のメカボディでして、関節などはメカメカしくなっています。とはいえ人間的な演技に違和感を持たせないよう気をつけています。
パンツはパンツのまま格好良くまとめてみたつもりですが、いかがでしょう? いやあ、あんまりパンツパンツ言うとそこばかり意識がいってしまいますよね。
Appears on these pages

of
Mega Man Volnutt, Rock Volnutt (ロック・ヴォルナット Rokku Vorunatto) in the Japanese version, originally...
File history
Click on a date/time to view the file as it appeared at that time.
Ad blocker interference detected!
Wikia is a free-to-use site that makes money from advertising. We have a modified experience for viewers using ad blockers

Wikia is not accessible if you've made further modifications. Remove the custom ad blocker rule(s) and the page will load as expected.