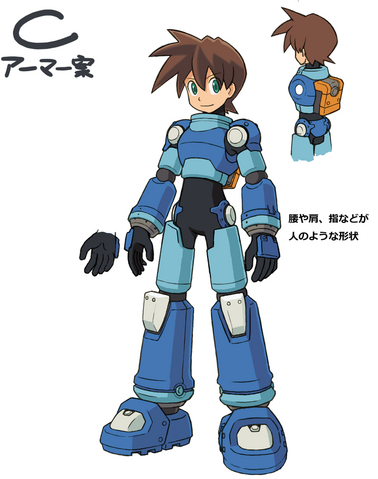 One of Mega Man Volnutt's design suggestions for Mega Man Legends 3, "Armored Design". Image from the game's Devroom.
Design notes
English: This design is based on Design B, but looks more like a regular human being who's wearing armor. The reason we came up with this was because some of the team members felt that Design B's "underwear-like pants" were uncool, and that the whole robot look was too old-fashioned.
We actually weren't thinking of EXE or Star Force when we came up with this. We just thought it would give more of a swift, agile impression to Mega Man. One thing we have to keep in mind, though, is that this is a character who can exchange parts of his body. We wonder if this design works within the capacity of that element.
Notes:
Shoulders, mid-section, and fingers are human-like
Japanese: Bをベースに、人間がアーマーを着ているような作りにしたもの。 「Bのパンツっぽいパーツがカッコ良くない」「そもそもロボチックな体は古い」という意見もあったことから用意しました。 エグゼや流星を意識した訳じゃないんですが、動きやすそうでスマートな印象を与えるためスーツにしています。 やるなら肘や膝などにも手を入れるべきか。体のパーツを取り替えるという設定の範囲でどこまでやれるかが胆。
Appears on these pages

of
Mega Man Volnutt, Rock Volnutt (ロック・ヴォルナット Rokku Vorunatto) in the Japanese version, originally...

I only really discovered this series about two years ago, But its become a favorite ever since...
File history
Click on a date/time to view the file as it appeared at that time.
Ad blocker interference detected!
Wikia is a free-to-use site that makes money from advertising. We have a modified experience for viewers using ad blockers

Wikia is not accessible if you've made further modifications. Remove the custom ad blocker rule(s) and the page will load as expected.