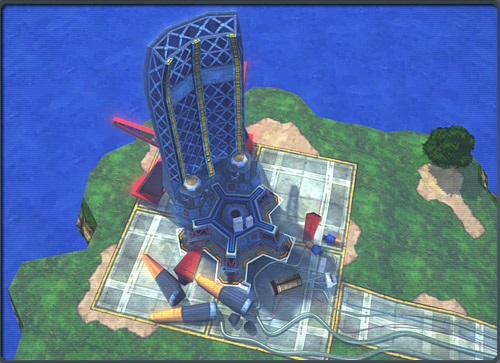 No higher resolution available.
Summary
Image from Mega Man Legends 3's devroom rocket development progress (25%).
Page text
---
Now gathering resources!
---
Servbots in today's episode:
#12: Usually clumsy, but swift as a fox when he's about to get in trouble.
#17: Seriousness is his sole virtue. It is said that he has few friends.
#35: Aspires to be an artist, but dislikes drawing. Is skilled at coloring pictures.
---
Heave! Ho!
Carrying supplies is hard work! Can we take a break?
Right, let's relax while Miss Tron isn't looking!
Rest, in moderation, will enhance performance! Won't you join us, Number 17?
Urrrgh, it's so heavy. I'll rest after I finish transporting this load.
We'll be here resting, then.
Phew. . . . I'm a liberal arts bot, not meant for such labor-intensive tasks.
But the more you exercise, the better your dinner will taste!
Last night's curry sure was yummy.
They say curry tastes best when left to sit overnight, but everybody eats it up as soon as it's ready.
Phew. . . . Finally finished. Time to rest.
Hey, you! What do you think you're doing over there?! GET TO WORK!!
EEEEEEK!!
We're sorry, Miss Tron!!
I never even got to rest. . . .
Don't talk back!
Those guys. . . . They've forgotten what's important.
Tron Bonne:

Let's all work together to rescue the blue man,
and complete Mega Man Legends 3!
Hey! That means YOU TOO!
---
緊急ミッション!
---
今回___するコブン:
12号: どんくさいけど おこられそうなときの にげあしだけははやい
17号: マジメだけがとりえ なかまには ようりょうがわるいといわれている
35号: えかきしぼうだが じつはデッサンはにがて ぬりえならトクイ
---
よいしょ、よいしょ。
資材を運ぶのは大変です~。
…ちょっと休憩しませんか?
そうですね、トロン様も見てませんし…ちょっと休みましょう!
適度な休憩はパフォーマンスを向上させるんです。
17号も休みませんか~?
うう~、重たいです…
これを運んだら休みます~。
ボクたちは先に休んでますね。
ふぅ…ボクはブンカケイだから力仕事はキツイです~。
でも体を動かすとごはんがおいしいです!
昨日のカレーはおいしかったですね。
一晩寝かせたカレーはもっとおいしいんですけど
みんな、作ったらすぐに食べちゃいます~。
ふぅ…ようやく運び終わりました。
ボクも休憩を…。
あなた達!なにサボってんのよ!
さっさと働きなさーい!!
あわわわっ!
トロン様、ごめんなさーい!
ボクまだ休んでないのに~。
つべこべ言わずにいきなさい!
まったくもう…
あ、あの子達大事なことを忘れてるじゃないの
参加求ム!69万人のロケット開発プロジェクト!
そこのあなたもちゃんと手伝いなさいよ!
Licensing
This file is copyrighted.
It will be used in a way that qualifies as fair use under US copyright law.
Appears on these pages

of
A rocket (ロケット, rocket) is a vehicle used to obtain thrust from a rocket engine by pushing the...
File history
Click on a date/time to view the file as it appeared at that time.
Ad blocker interference detected!
Wikia is a free-to-use site that makes money from advertising. We have a modified experience for viewers using ad blockers

Wikia is not accessible if you've made further modifications. Remove the custom ad blocker rule(s) and the page will load as expected.