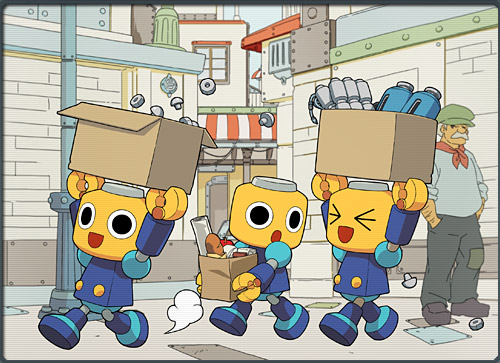 No higher resolution available.
Summary
Image from Mega Man Legends 3. Image from Mega Man Legends 3's devroom rocket development progress (13%).
Page text
Notes: There are mugshots accompanying the texts, and the Elysium picture is different.
---
Urgent Mission!
---
Servbots in today's episode:
#1: The first servbot ever made, he has a strong sense of responsibility and vast battle experience.
#26: Goofy and butterfingered, still, you can't help but love this adorable little guy.
#38: Huffy and a firm believer in tough love, #38 hopes to pummel his peers into manhood.
---
Servbot #1
Thanks to those other three servbots' dilly-dallying, our rocket project hasn't progressed very much at all. . . .
Servbot #38
They never did their chores in the end, so we're here to do them instead.
Servbot #26
Right now Miss Tron is giving those three exactly what they deserve. . . . clang clang, zap zap.
Servbot #38
By the way, wasn't the festival a lot of fun?
It is important to hold motivational events to retain our enthusiasm!
Servbot #1
The number of Devroom servbots is increasing tremendously!
---
Urgent Mission: Reach for 10,000 Servbots!!
---
Objective:
Reach 10,000 servbots between the Japanese and North American Devrooms!
Period of Event:
Feb. 9, 5:00pm (PST) - Mar. 31, 5:00pm (PST)
Reward:
If we reach our goal, by the deadline, all servbots will receive 1000 Unity points! Rocket development will also progress significantly!
We currently have a total of about 8700 Servbots between our two Devrooms!
(Japan: ~6400, NA: ~2300 as of February 1st, 2011)
We're well on our way to amassing a "mega" reserve! Now let's shoot for 10,000!
Invite your friends who are fans of Mega Man, or just friends who are interested in game design!
And for you Devroom members who haven't gotten your servbot numbers yet, now's the time to get one!
If we reach 10,000 total Devroom serbots by the deadline, you servbots'll receive 1000 Unity Points each!!
Rocket progress will also advance significantly!
---
Servbot #26
Number of servbots and Development Room activity is pivotal in determining our efficiency.
Servbot #38
If everybody works hard and recruits new servbots, rocket progress will advance full-throttle!
Servbot #1
We're counting on all of you!
Servbots:

Mega Maniacs Wanted!

For A Project Of Legendary Proportions!
---
緊急ミッション!
---
今回___するコブン:
1号: さいしょにつくられた せきにんかんがつよく、せんとうけいけんもほうふ
26号: そそっかしくて おっちょこちょい、でもニクめないかわいいやつ
38号: あいのあるとっくんでみんなをシゴいてあげたいと、いきまいている
---
コブン1号
この前の三人がサボったせいで、進捗状況があんまり進んでいません~。
コブン38号
結局お使いもいけなかったので、僕らが代わりにお使いにきてます~。
コブン26号
いまごろ三人はトロン様にお仕置きを…ガクガクブルブル。
コブン38号
そういえば、この前のお祭りは楽しかったですね~。
リテンションの一環として、みんなのモチベーションを高めるイベントは必要です!
コブン1号
開発コブンも、もうすぐ大台に乗りますね!
友達を紹介できる機能もついたので、一気に1万人突破しちゃいましょう~。
---
緊急ミッション: __せ! 一万人の開発コブンキャンペーン
---
目標:
日本・北米の開発室で、開発コブンの総数が1万人を突破する
期間:
2011年2月10日(木)~3月31日(木)17:00
報酬:
一万ゼニー、秘密のご褒美(目標達成時にお知らせします)
ロケット開発進捗度も大幅アップ!
現在開発コブンは全世界に約8700人います! (日本開発室:約6400人、北米開発室:約2300人 2011/2/1現在) 開発コブン69万人への第一歩!友達紹介機能を利用して目指せ1万人! ロックマンファンの友達やゲーム作りに興味がある友達を開発室に誘ってみよう! 北米の開発室に登録しているけど、まだコブンNo.を獲得していない人は、 是非この機会にコブンNo.を獲得してね!
期間内に全世界で開発コブンが1万人に到達すると、 開発室に登録している皆さんに1万ゼニーと秘密のご褒美をプレゼント ! 開発進捗度も大幅にアップするぞ!
※キャンペーンは終了しました。キャンペーンの結果はこちら! 友達紹介機能につきましては、引き続きご利用することができます。
---
コブン26号
コブンの総数と開発室での活動によって、進捗率は変わってきます~。
コブン38号
みんなが頑張って、仲間を増やして活動すると、どんどんロケットが出来ていくんですよ!
コブン1号
みなさん、ご協力をお願いします!
参加求ム!69万人のロケット開発プロジェクト!
Licensing
This file is copyrighted.
It will be used in a way that qualifies as fair use under US copyright law.
Appears on these pages

of
A rocket (ロケット, rocket) is a vehicle used to obtain thrust from a rocket engine by pushing the...
File history
Click on a date/time to view the file as it appeared at that time.
Ad blocker interference detected!
Wikia is a free-to-use site that makes money from advertising. We have a modified experience for viewers using ad blockers

Wikia is not accessible if you've made further modifications. Remove the custom ad blocker rule(s) and the page will load as expected.