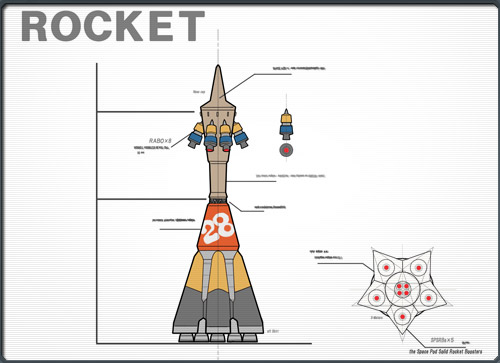 No higher resolution available.
Rocket blueprints from Mega Man Legends 3. Image from Mega Man Legends 3's devroom rocket development progress (5%).
Page text:
Blueprint finalized!
#3: Loves food almost as much as he loves Tron.
#11: Not very popular now, but secretly dreams that someday. . . .
#14: Possesses strong management skills and is the master of trivia.
---
Servbot #11: Rocket completion has progressed to five percent!
Servbot #14: It looks like we've only added color, but lots of wheels are in motion!
Servbot #11: Thanks to all these new servbots, that is!
Now Miss Tron and Roll won't have to work as hard!
Servbot #3: We helped spread the word, too!
Compliments please, Miss Tron!!
Servbot #14: Repeated execution of the Plan-Do-Check-Act cycle has shown clear signs of success!
Rocket 28's failure is not an option!
Servbot #11: It's been a long road up until now. It feels like ten years have passed!
Servbot #14: We made many mistakes along the way. . . .The rocket that blew up after launch, the rocket that was rejected for being too fragile. . . . but the twenty-seven failures were not in vain!. . . I hope.
Servbot #3: If we had asked Mr. Monkey how to make it, it wouldn't have taken us so long.
Servbot #11: But Miss Tron and Roll didn't want to listen to him~
Servbot #3: And we reaped the hardships of their negligence. . . .
Servbot #11 & Servbot #14: . . . .
Servbot #14: Anywayyy! Our blueprints are finished, but we still do not have enough manpower to actually build it. We need more human resources!
Servbot #3: We need lots more people to help build our rocket, so please come lend us a hand, everybody!
Servbot #11: If you know someone who hasn't heard about our plans or hasn't joined in yet, please invite them!
設計図完成!
3号: 3どのメシがトロンさまとおなじくらいスキ
11号: いまはパッとしないがいつのひかきっと…とひそかにおもっている
14号: かんりのうりょくはたかい、ものしりでざつがくおう
---
コブン11号: ロケットの開発が少し進んで、進捗状況が5%になりました!
コブン14号: 設計図に色がついただけに見えますけど、いろいろ進んでるんですよ~。
コブン11号: これも新しいコブンが増えたおかげですね~。
トロン様やロールさんの負担も軽減されました!
コブン3号: ボクたちも頑張って勧誘した甲斐がありました~。
トロン様~、ほめてほめて~。
コブン14号: PDCAサイクルを繰り返した結果、ついに成功が見えてきました!
この28号は絶対に失敗させられないです~。
コブン11号: ここまで長かったですね~。10年以上かかった気分です!
コブン14号: 打ち上げ後に爆散したロケット、素材の耐久度が足りず廃棄されたロケット…。
いろんな失敗がありましたけど27号までの失敗は無駄じゃなかった…はずです。
コブン3号: お猿さんにロケットの作り方を聞けばもっと早く出来たはずなんですけどね。
コブン11号: でもトロン様もロールさんもお猿さんの言葉をまったく聞く気がなかったので仕方ないです~。
コブン3号: おかげで本当に苦労しましたね…。
コブン11号 & コブン14号: ・・・。
設計図は出来ましたが、実際に開発する為にはまだまだ人手が足りませ~ん。
ヒューマンリソースが不足してます!
コブン3号: もっとたくさんロケット開発を手伝ってくれる人を募集しているので、いろんな人の参加をお待ちしておりま~す!
コブン11号: 周りにこのことを知らない人やまだ開発に参加していない人がいたら、ぜひ誘ってあげてくださ~い!
Appears on these pages

of
A rocket (ロケット, rocket) is a vehicle used to obtain thrust from a rocket engine by pushing the...
File history
Click on a date/time to view the file as it appeared at that time.
Ad blocker interference detected!
Wikia is a free-to-use site that makes money from advertising. We have a modified experience for viewers using ad blockers

Wikia is not accessible if you've made further modifications. Remove the custom ad blocker rule(s) and the page will load as expected.