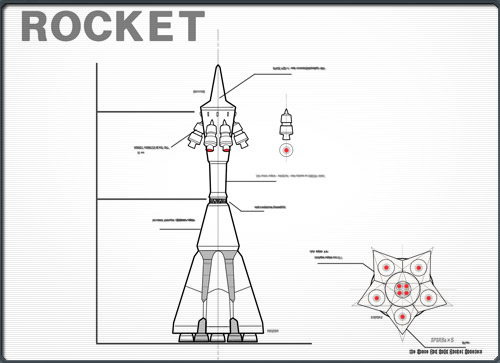 No higher resolution available.
Summary
Rocket blueprints from Mega Man Legends 3. Image from Mega Man Legends 3's devroom rocket development progress (1%).
Page text
Notes: There are mugshots accompanying the texts, and the Elysium picture is different.
---
What's Rocket Project?
---
An engine that has to be tuned to its limits isn't going to be reliable enough!
The kind of engine you're suggesting isn't going to be cheap, you know!?
Ohh no, are Miss Tron and Roll fighting?
It looks like they're having a disagreement about the rocket we are trying to build. It's important to hedge risk.
But they've been at it like this for so long.
...Wait, I forgot. Why is it that they decided to build a rocket...?
---
Why are we building a rocket?
---
Tron and Roll are trying to build a rocket to bring back the blue man
Oh yeah!(Clap, clap, clap, clap)
The blue man is in a place high above the sky called Elysium.
There were some dangerous people in Elysium who were trying to do some very dangerous things!
So the blue man when to Elysium and stopped them, but he wasn't able to come back from there.
※For more about this, please have a look back at Mega Man Legends 2!
So Miss Tron and Roll came up with a plan to build at rocket to go and get the blue man and bring him back!
Oh yeah!(Clap, clap, clap, clap)
So we are all helping Miss Tron and Roll build a rocket.
Miss Tron is really scary, isn't she?
Yeah, if she catches you slacking of, she'll give you what-for!
But sometimes she looks at the blue mand and turns red...
Originally, we and the blue man were enemies.
But the blue man he went to Elysium to help us.
So Miss Tron was obliged to build a rocket with Roll to go and get him.
Miss Tron said with a red face that it is because she has no other choice.
---
We don't have enough manpower!
---
But the thing about that oh-so-important rocket is this, we have failed so many times that we don't have the money or manpower to keep trying...
That monkey seems to know how to build a rocket,
but Miss Tron and Roll won't even listen to what it has to say.
It was all worked up, yelling something like,"We are going to save MegaMan!
We are running behind scheduuuuule!!
I'm worried about cost versus resources on this!
...Haaah, Sorry, I think I'm losing it.
These continuous failures are causing Miss Tron and Roll to fight all of the time. We can' even decide on a prioritized consensus!
Yeah, but they weren't very good friends to begin with...
Anyway, at this rate there is no way we are going to be able to rescue the blue man!
What we need first and foremost is manpower!
We are recruiting people to help up build our rocket.
If you know anyone who might want to help us, please let them know our situation and send them here.
They say you can earn Zennys here, so let's recruit some more people and try to raise some more capital to continue development on the rocket!
Servbot #3
They're going to be showing the rocket's development progress on the upcoming Legends-TV. There, people will get to see just how far along we are. And it will be updated visually on a monthly basis
The three Servbots:

Let's all work together to rescue the blue man,

and complete Mega man Legends 3!
---
ロケット開発について
---
ギリギリの調整をしなくちゃいけない
エンジンなんてダメだ ってば!
あなたの言うエンジンは
お金がかかりすぎなのよ!
わわっ、トロン様とロールさんがケンカしてます~?
今作ろうとしているロケットのことでモメてるみたいですね~。
リスクヘッジはたいせつです~。
でも、さっきからずっとこの調子です~。
…あれ?ボクたち、どうしてロケットを作ることになったんでしたっけ…?
---
どうしてロケットを作っているの?
---
トロン様は、ロールさんと協力して
青い人(青い人とは?)を迎えに行くロケットを作ろうとしてるんですよ~。
そうでしたー!(ぱちぱちぱちぱち)
ヘブンにはなんだか危ない人がいて、
みんなに危ないことをしようとしてたのです!
青い人がヘブンに行ってそれをやめさせたんですけど、
今度は青い人が帰ってこれなくなっちゃったんです。
※詳しくは、『ロックマンDASH2』でふりかえってみよう!
そこで、トロン様とロールさんの設計で、
青い人を迎えに行くためのロケットを作っているのです!
そうでしたー!(ぱちぱちぱちぱち)
みんなでトロン様とロールさんが設計したロケットを作るんです~。 
トロン様はとっても怖い人ですからね~。
サボっているとお仕置きされちゃいます~。
でもトロン様はよく青い人をみて、赤くなっていましたぁ。
もともとボクたちと青い人は敵同士なんですけど、
青い人はみんなを助けるためにヘブンにいっちゃったんですよねぇ。
だからトロン様は仕方なく、迎えのロケットをロールさんといっしょに作っているのです~。
「あくまで仕方なくよっ!」とトロン様は真っ赤な顔をして言ってましたぁ。
---
人手が足りない!
---
その肝心なロケットなんですけど、
なんども失敗してしまって、おかねも人手も全然足りなくて…
お猿さんがロケットの作り方を知ってるみたいなんですけど、
ふたりともまったく聞く気がないですね。
「私達でロックを助けるんだ!」って息巻いてます。
予定していた納期がぁ~~~~~~!!
コストとリソースのかねあいが心配です~!
…ああ、すみません取り乱しました~。
失敗続きのおかげでトロン様もロールさんも喧嘩ばっかりですぅ。
プライオリティ付けのコンセンサスがまったくとれていません~!
まぁもともとあんまり仲良くなかったんですけど…。
ともかくこのままじゃ青い人を助けられません!
まずは人手の確保です!
ロケット開発を手伝ってくれる人を募集してます~
ここで僕らと一緒に
ロケット開発を手伝ってくれる人を募集しているので、
きみのお友達にも声をかけてくれませんか?
ここではゼニーも稼げるみたいなんで、頑張って資金を稼いでください!
開発を手伝ってくれる人が増えて、みんながゼニーを稼いでくれるとロケット開発も進みますからぁ!
開発状況はロケット開発ページで映し出されます。
開発の進み具合はパーセンテージでわかるんですよぉ。
月に1度、ロケットの映像が更新されていきます。
3 コブン:

みんなで協力して青い人を助け出して、 DASH3を完成させましょう!
Licensing
This file is copyrighted.
It will be used in a way that qualifies as fair use under US copyright law.
Appears on these pages

of
A rocket (ロケット, rocket) is a vehicle used to obtain thrust from a rocket engine by pushing the...
File history
Click on a date/time to view the file as it appeared at that time.
Ad blocker interference detected!
Wikia is a free-to-use site that makes money from advertising. We have a modified experience for viewers using ad blockers

Wikia is not accessible if you've made further modifications. Remove the custom ad blocker rule(s) and the page will load as expected.