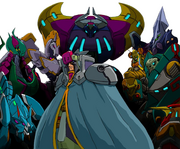 The Einherjar Eight Warriors (アインヘルヤル八闘士, Einherjar Eight Warriors?) are a group of eight Mutos Reploids in Mega Man Zero 4.
History
The Einherjar is a task force assembled by Dr. Weil to oversee Operation Ragnarok, destroying all inhabitable areas outside Neo Arcadia to discourage anyone from running from Weil's rule.
Once the Eight Warriors are defeated, Weil transmits a message to Area Zero, proudly proclaiming that all their efforts are futile; the Einherjar were only a distraction just so Weil can finish construction on the Ragnarok space station.
Even though Weil was apparently killed during Craft's rebellion (the latter having fired Ragnarok's laser on Neo Arcadia, destroying it) the Resistance learn that Ragnarok's threat is far from over, since it's now descending to Earth. Zero enters the station one more time, and faces the resurrected Einherjar once more. It is heavily implied that Weil had resurrected the Eight Warriors as part of the line of defenses against Zero and the Resistance stopping the descent of Ragnarok. Zero defeats all of them a second time before going on to face Dr. Weil himself.
Members
Under Craft's command, they were tasked with missions that would disrupt life in various ways in Area Zero.
Etymology
In Norse mythology, the einherjar are those that have died in battle and are brought to Valhalla by valkyries. They prepare daily for the events of Ragnarök, when they will advance for an immense battle.
Ad blocker interference detected!
Wikia is a free-to-use site that makes money from advertising. We have a modified experience for viewers using ad blockers

Wikia is not accessible if you've made further modifications. Remove the custom ad blocker rule(s) and the page will load as expected.