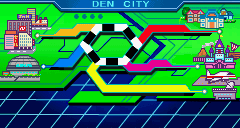 DenTech City, known as Densan City (デンサンシティ, Densan City?) in Japan, Den City for short, is a location from the MegaMan Battle Network series. Towns like DenTown and Lan's home town of ACDC Town are located within its boundaries.
Locations
Trivia
Densan is an abbreviation of the Japanese word denshikeisanki, which means "electronic computer".
Ad blocker interference detected!
Wikia is a free-to-use site that makes money from advertising. We have a modified experience for viewers using ad blockers

Wikia is not accessible if you've made further modifications. Remove the custom ad blocker rule(s) and the page will load as expected.