Crab Puncher
Talk

1
3,443pages on
this wiki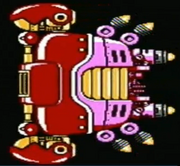 The
Crab Puncher
is the boss of the second Wily Stage in
Mega Man 10
. Its weakness is the
Commando Bomb
.
The Crab Puncher attacks by shooting bubbles and punching with its giant claws. Its eyes are its weak points, and each eye is half of the boss' health. The claws can be destroyed unless blocking the eyes, in which case they are invulnerable. Blocks with damaging but non-lethal spikes on the bottom can be used to reach the top eye and top claw.
On Hard Mode, it will move its eyes around at different angles and propel itself toward you giving you less room and not much time to react.
Firing the Commando Bomb right in the middle of Crab Punchers face will cause the explosion to hit both eyes for massive damage. An additional strategy is to fire a Thunder Wool above the eyes so that the lightning hits both eyes at once. Note that if the wool hits an eye, it will be destroyed and do minimal damage. Two double lightning hits will destroy the Crab Puncher on Normal mode. Triple Blade at close range can also do a lot of damage as multiple blades hitting their target can deal more damage than 1 blade alone.