Commando Man
Talk

0
3,441pages on
this wiki


Commando Man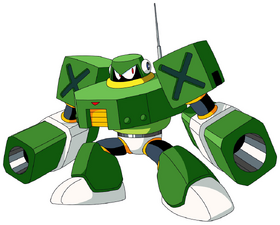 {{{nickname}}}
DWN-075
{{{numberb}}}
Information
In-Game Information

Command Mission Stats

Type
--
Level
Life Energy
--
--
Fire
--
Exp.
--
Water
--
Zenny
--
Thunder
--
FME
--
Power
Armor
Shield
Speed
--
--
--
--
Steal
Drop
--
--

List of Abilities
Ability
Effect
{{{ability1}}}
---
{{{ability2}}}
---
{{{ability3}}}
---
{{{ability4}}}
---
{{{ability5}}}
---
{{{ability6}}}
---
{{{ability7}}}
---
{{{ability8}}}
---
{{{ability9}}}
---
{{{ability10}}}
---
{{{ability11}}}
---
{{{ability12}}}
---
{{{ability13}}}
---
{{{ability14}}}
---
{{{ability15}}}
---

HP:
28
Attack Damage:
4 (Contact)
5 (Commando Bomb)
Weapon:
Commando Bomb
Weakness:
Wheel Cutter
Misc. Information
Eye Color:
Red
Series Information
In-game Appearances:
Mega Man 10

Commando Man (コマンドマン, Komando Man?) is a Robot Master from Mega Man 10. He is able to stun the player by pounding the ground, and shoot Commando Bombs that home in on Mega Man. Commando Man is said to inflict serious amounts of damage. His stage is set in a desert which has a vicious sandstorm that can obstruct the player's vision and push them to pits or other hazards.
Before contracting Roboenza, Commando Man was a mine-sweeping robot who used remote detonation techniques to clear minefields all over the world. It is also said that he enjoys tasting oil from the various countries he visits. [1]
Commando Man jumps around while firing Commando Bomb. Be careful as the shockwave from the bomb reaches out and can still hit you. Commando Man can jump and shoot a Commando Bomb which will turn down as you pass under it, as well as jump high which he drops himself to the ground to shake it (similar to Hard Man) after firing the Commando Bomb. He may also just fire a Commando Bomb forward while he is on the ground which may arc up when the player jumps. 
On Hard Mode he gets a new attack, stunning you by hitting the ground and creating an explosive shockwave that travels all the way across the room.
The best weapon to use is Wheel Cutter, as it can cancel out a Commando Bomb when they collide.
Stage enemies
Edit
Other Robot Masters who have been known to stun Mega Man by pounding the ground are Guts Man, Hard Man (who could also stun the player in mid-air), and Concrete Man.
Commando Man was one of Search Man's early names.
Commando Man was the second Robot Master from Mega Man 10 to be revealed to the public.
References
Edit