Commander Yammark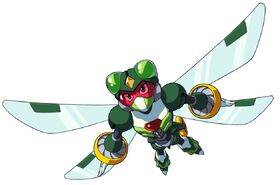 {{{nickname}}}
{{{number}}}
{{{numberb}}}
Information
In-Game Information

Command Mission Stats

Type
--
Level
Life Energy
--
--
Fire
--
Exp.
--
Water
--
Zenny
--
Thunder
--
FME
--
Power
Armor
Shield
Speed
--
--
--
--
Steal
Drop
--
--

List of Abilities
Ability
Effect
{{{ability1}}}
---
{{{ability2}}}
---
{{{ability3}}}
---
{{{ability4}}}
---
{{{ability5}}}
---
{{{ability6}}}
---
{{{ability7}}}
---
{{{ability8}}}
---
{{{ability9}}}
---
{{{ability10}}}
---
{{{ability11}}}
---
{{{ability12}}}
---
{{{ability13}}}
---
{{{ability14}}}
---
{{{ability15}}}
---

HP:
32-48
Attack Damage:
3:4:5 (contact)
1:2:2 (Yammar Option)
1:2:2 (projectile)
1:2:2 (Yammar Option bomb)
Weapon:
Yammar Option
Weakness:
Ray Arrow / Rekkoha
Main Stage:
Amazon Area
Misc. Information
Script:
コマンダー・ヤンマーク
Romaji:
Komandā Yanmāku
Series Information
In-game Appearances:
Mega Man X6
Japanese VA:
Wataru Takagi
Theme Music
Commander Yammark's stage theme.

---

"Maverick Hunters and Reploid researchers are all liars! I may end up betrayed and deleted! So I will delete you first!"
―Commander Yammark, Mega Man X6

Commander Yammark (コマンダー・ヤンマーク,, Komandā Yanmāku?) is a dragonfly-themed Reploid created by Gate, to lead an observation team for a nature preservation project. He has an understandable paranoia and distrust of Reploid researchers, and, for unknown reasons, Maverick Hunters. While on duty he accidentally set a fire that burnt a large portion of the forest. Sometime later, his flight system was sabotaged during maintenance, leading to a fatal crash and his death. Gate resurrects him later on to aid in the investigation of the Nightmares.
Yammark uses his Yammar Option to send dragonflies after you. He is the easiest to defeat with the starting weapon, but he falls even faster to X's Ray Arrow or Zero's Rekkoha.
Data
Attacks
Yanma Option: Commander Yammark will form small dragonflies around himself. He may form anywhere from three to six dragonflies, depending on how much health he has left.
Formation Guard: Commander Yammark will launch the dragonflies at the player, like missiles. They can be hit and deflected back at him. He will take slight damage and will be stunned if hit.
Formation Wing: Commander Yammark will level out with the player, then fly in a straight line towards the other side of the screen, while the dragonflies fire straight ahead.

Xtreme Mode: The dragonflies will fire directly at the player instead of just straight ahead.
Formation Final:

When Commander Yammark has 1/2 of his health left, he will call the dragonflies to line up behind him and fly around the screen, attempting to fill it up.
Or Commander Yammark will call the dragonflies to line up above and below him, then he will fly from side to side, trying to hit the player.
Stage Enemies
Enemies in Commander Yammark's stage, the Amazon Area:
Dialogues
When Playing as X
X: You're the Nightmare investigator, Commander Yammark?
Commander Yammark: Yes! I'm in charge of the Amazon area. Tell me! What is Zero up to? You must know something.
X: Zero has nothing to do with this! Stop accusing him!
Commander Yammark: I won't trust both the Maverick Hunter and Reploid researcher. I don't know what you're thinking... I won't end up being betrayed and deleted! I will delete you first!
When Playing as Zero
Zero: You're the Nightmare investigator, Commander Yammark?
Commander Yammark: Yes! I'm in charge of the Amazon area. Tell me! What will you do with the Nightmare?
Zero: Are you serious? It is your silly toy!
Commander Yammark: Maverick Hunters and Reploid researchers are all liars! I may end up betrayed and deleted! So I will delete you first!
Other Media
Commander Yammark and many other Mavericks served as the antagonists of the Worlds Unite crossover event, where they were revived by Sigma-1 and unleashed against the heroes aboard the Sky Patrol. They were then dispatched to various worlds through the Genesis Portals to add to Sigma's power by planting Unity Engines.
Gallery
Videos
Commander Yammark Stage Gameplay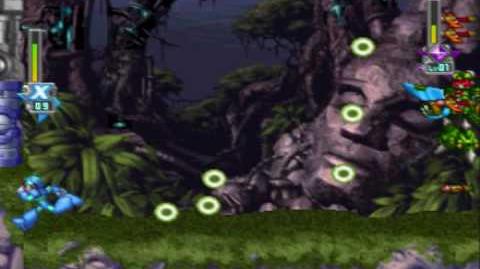 Ad blocker interference detected!
Wikia is a free-to-use site that makes money from advertising. We have a modified experience for viewers using ad blockers

Wikia is not accessible if you've made further modifications. Remove the custom ad blocker rule(s) and the page will load as expected.