Colton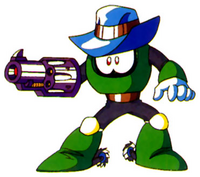 {{{nickname}}}
{{{number}}}
{{{numberb}}}
Information
In-Game Information

Command Mission Stats

Type
--
Level
Life Energy
--
--
Fire
--
Exp.
--
Water
--
Zenny
--
Thunder
--
FME
--
Power
Armor
Shield
Speed
--
--
--
--
Steal
Drop
--
--

List of Abilities
Ability
Effect
{{{ability1}}}
---
{{{ability2}}}
---
{{{ability3}}}
---
{{{ability4}}}
---
{{{ability5}}}
---
{{{ability6}}}
---
{{{ability7}}}
---
{{{ability8}}}
---
{{{ability9}}}
---
{{{ability10}}}
---
{{{ability11}}}
---
{{{ability12}}}
---
{{{ability13}}}
---
{{{ability14}}}
---
{{{ability15}}}
---

HP:
6
Attack Damage:
4 (contact)
3 (bullet)
Misc. Information
Script:
コルトン
Romaji:
Koruton
Series Information
In-game Appearances:
Mega Man 6

Colton (コルトン, Koruton?) is a cowboy-like robot enemy in Mega Man 6 that appears in Tomahawk Man's stage and the fourth Mr. X stage. Coltons shoot once from their revolver arm as soon as they are visible, and fire again every time the bullet dissapears.
Other media
Colton appears in the Rockman 6 manga.
Trivia
Colton's name is based on the Colt revolver, as characterized by their buster-like revolver arm.
Interestingly, Coltons take six hits to kill, which is the number of rounds that majority of Colt revolver cylinders chamber.
While Coltons' sprites show them wearing a lime-green colored hat, the official artwork depicts them as wearing a blue colored hat.
Ad blocker interference detected!
Wikia is a free-to-use site that makes money from advertising. We have a modified experience for viewers using ad blockers

Wikia is not accessible if you've made further modifications. Remove the custom ad blocker rule(s) and the page will load as expected.