Clown Man
Talk

2
3,452pages on
this wiki


Clown Man
{{{nickname}}}
DWN-060
{{{numberb}}}
Information
In-Game Information

Command Mission Stats

Type
--
Level
Life Energy
--
--
Fire
--
Exp.
--
Water
--
Zenny
--
Thunder
--
FME
--
Power
Armor
Shield
Speed
--
--
--
--
Steal
Drop
--
--

List of Abilities
Ability
Effect
{{{ability1}}}
---
{{{ability2}}}
---
{{{ability3}}}
---
{{{ability4}}}
---
{{{ability5}}}
---
{{{ability6}}}
---
{{{ability7}}}
---
{{{ability8}}}
---
{{{ability9}}}
---
{{{ability10}}}
---
{{{ability11}}}
---
{{{ability12}}}
---
{{{ability13}}}
---
{{{ability14}}}
---
{{{ability15}}}
---

HP:
40
Attack Damage:
4 (contact)
4 (trapeze kick)
5 (Thunder Carnival)
2-4 (Thunder Claw)
3 (wall strike)
Weapon:
Thunder Claw
Weakness:
Tornado Hold
Misc. Information
Script:
クラウンマン
Romaji:
Kuraunman
Designer:
Hiroshige Sakai
Eye Color:
Blue
Series Information
In-game Appearances:
Mega Man 8
Mega Man & Bass (as a data CD)
Japanese VA:
Chika Sakamoto

Clown Man (クラウンマン, Kuraunman?) is a mischievous clown-like Robot Master from Mega Man 8. He was originally an amusement park robot, but was stolen and remodeled for combat by Dr. Albert W. Wily to wreak havoc in somewhere in New South Wales, Australia. His leftover parts were used by Wily to create Frost Man.
Intro:
Taunts:
"I'll make you join my men!"
"Yo, geeky!"
"You've got no chance!"
"Weakling! This isn't a joking matter!"
Attack Shouts:
"Watch It!"
"Thunder Carnival!"
"Thunder Claw!"
If Mega Man gets hit by Thunder Claw:
Cries:
Tornado Hold cries:
"What are you doing!?"
"Mommy!!"
"What have you done to me??"
Death:
Mega Man & Bass CD data
Edit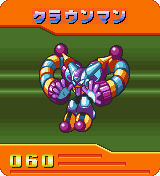 • CD data •
English data
He can shoot electric bolts from the long arms. He is very good with a flying trapeze.
"Some clowns short of a circus."
Good Point:
Good sportsman
Bad Point:
Extreme emotions
Like:
Trapeze
Dislike:
Everything
Japanese data
Good Point:
Good at sports
Like:
Giant swing
Dislike:
Countless
Stage enemies
Edit
Enemies in Clown Man's stage:
Other media
Edit
In the Rockman 8 manga, Clown Man disguises himself as a small wind-up robot called Antonio Takeda the Third.
Clown Man has a brief appearance in the end of Mega Man Gigamix.
During Capcom's Robot Master design contest for Mega Man 8, Clown Man was one of three robots created using a pre-made design template supplied to fans (Search Man and Sword Man were the others). Clown Man's template was known as "Long Arm Robot."
Although ColorMan.EXE and CircusMan.EXE have some similarities with Clown Man, they aren't NetNavi counterparts of him. However, one of Clown Man's original concepts, shown during the credits of Mega Man 8, showed him standing on a giant ball. Therefore, some believe ColorMan.EXE could indeed be his NetNavi counterpart.
Clown Man is the second Robot Master to perform an attack involving turning into a ball and bouncing. The other two are Blizzard Man and Strike Man. However, unlike the other two, Clown Man doesn't have a round body.