Cloud Man
Talk

1
3,448pages on
this wiki


Cloud Man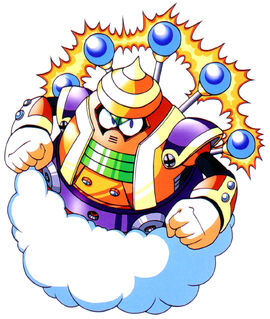 {{{nickname}}}
DWN-052
{{{numberb}}}
Information
In-Game Information

Command Mission Stats

Type
--
Level
Life Energy
--
--
Fire
--
Exp.
--
Water
--
Zenny
--
Thunder
--
FME
--
Power
Armor
Shield
Speed
--
--
--
--
Steal
Drop
--
--

List of Abilities
Ability
Effect
{{{ability1}}}
---
{{{ability2}}}
---
{{{ability3}}}
---
{{{ability4}}}
---
{{{ability5}}}
---
{{{ability6}}}
---
{{{ability7}}}
---
{{{ability8}}}
---
{{{ability9}}}
---
{{{ability10}}}
---
{{{ability11}}}
---
{{{ability12}}}
---
{{{ability13}}}
---
{{{ability14}}}
---
{{{ability15}}}
---

HP:
28 (MM7), 64-128 (MM:TPB)
Attack Damage:
4 (MM7, contact)
2 (MM7, Thunder Bolt)
Weapon:
Thunder Bolt
Weakness:
Danger Wrap (MM7)
Junk Shield and Scorch Wheel (MM:TPB)
Misc. Information
Script:
クラウドマン
Romaji:
Kuraudoman
Designer:
Isao Nakagiri
Eye Color:
Blue
NetNavi Counterpart:
CloudMan.EXE
Series Information
In-game Appearances:
Mega Man 7
Mega Man: The Power Battle
Mega Man & Bass (as a data CD)

Cloud Man (クラウドマン, Kuraudoman?) is a Robot Master originally created as a weather control robot, but was stolen and modified for combat by Dr. Wily, removing his rainfall equipment and enhancing his lightning equipment. Cloud Man has no legs, but instead he is built to hover above the ground using a gravity controller. He can control the weather and create strong wind to push his opponents, and try to strike them with his Thunder Bolt.
First, Cloud Man will float to the center of the room, then float up and use Thunder Bolt. He will then move close to the ground, and summon rain and wind. Cloud Man will stay in the same spot, shocking the floor in attempts to push Mega Man into one of the two pits on either side of the arena. After that, Cloud Man will chase Mega Man, and after some time he repeats the attack pattern. He is weak to Danger Wrap. Cloud Man is invincible while charging up his Thunder Bolt attack.
Cloud Man's behavior is the same as in Mega Man 7, except there are no bottomless pits in his arena. Cloud Man could be difficult to defeat without the Scorch Wheel, but the Mega Buster is just as effective.
Stage description: Watch your step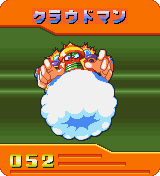 • CD data •
English data
He can levitate by the gravity controller installed in his body.
"I am on cloud nine!"
Good Point:
Couch potato
Bad Point:
Can't wear shoes
Like:
Rainy season
Dislike:
Lightning rod
Japanese data
Good Point:
Opportunism
Bad Point:
Can't wear geta
Like:
Navel, precious metals
Dislike:
Lightning rod
きしょうせいぎょようのロボットとしてかいはつされたが、ワイリーによってカミナリはっせいきのうをきょうかされる。シリーズはじめてのくうちゅうせんせんようロボットでもある。とくしゅぶきは、サンダーストライクじゃ。
Translation: A robot created for weather control, Wily enhanced his lightning function. The first series of robots for aerial combat. Special weapon is Thunder Strike.
Stage: Weather Research Institute Stage (気象研究所ステージ Kishou Kenkyuujo Sutēji)
Height: 197 cm
Weight: 144 kg
Stage enemies
Edit
Damage Data Chart
Edit
Displays the amount of damage in units that Cloud Man will receive from each Special Weapon in Mega Man 7.
*For Mega Buster, Wild Coil and Noise Crush, the first number is the damage done when the weapon is fired normally; the second number is damage done when the weapon is charged up.
*For Freeze Cracker, the first number is when the shot is whole; the second number is after it splits.
Other media
Edit
Cloud Man appeared in the manga Mega Man Gigamix and Rockman 7.
During his battle pose before fighting, his sprite loses a finger, giving him only four fingers instead of his usual five.
Cloud Man is weak to Burst Man's weapon to the point that it is almost comical, able to be endlessly slammed into the ground with only minimal timing required. This makes his weakness one of the most crippling of all Robot Masters.
Cloud Man does not like lightning rods because, when lightning strikes, the bolt hits the rod instead of the intended target.
Cloud Man's weapon is called Thunder Strike in Japan, which is also used in the English version of Mega Man: The Power Battle.
There is a glitch in the battle with Cloud Man, like with Spring Man and Turbo Man, only instead of destroying him instantly, it destroys him, the player, and distorts the screen. If Danger Wrap is fired with exact timing, it will cause him to fall from above the screen, disappear, (the player will not be able to move during this time) two thunder bolts will fall from the sky, the screen will become distorted in appearance, and the player will die.