Ad blocker interference detected!
Wikia is a free-to-use site that makes money from advertising. We have a modified experience for viewers using ad blockers

Wikia is not accessible if you've made further modifications. Remove the custom ad blocker rule(s) and the page will load as expected.
Chiptuned Rockman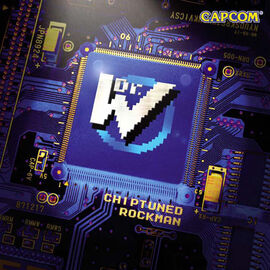 Information
Catalog Number:
INTIR-015
Release Date:
TGS 2009
October 15, 2009
Published Format:
Commercial
Release Price:
3000 JPY
Media Format:
CD
Classification:
Arrangement
Publisher(s):
Inti Creates
Composers(s):
Yoshinori Ono, Ippo Yamada, Ryo Kawakami, Toshihiko Horiyama, Naoshi Mizuta, Akari Kaida, Shusaku Uchiyama, Yuko Takehara, Mari Yamaguchi, Minae Fujii, Yasuaki Fujita, Takashi Tateishi, Manami Matsumae
Arranged by:
Chibi-Tech, Virt, Goto80, Ippo Yamada, Akari Kaida, Hiroki Isogai, Rushjet1, K->, Manabu Namiki, Saitone, hally, zinger, Saskrotch, Ryo Kawakami, Nobuyuki Shioda, KPLECRAFT, Dong, USK, naruto, Manami Matsumae
Chiptuned Rockman (チップチューンド・ロックマン, Chiptuned Rockman?) is a soundtrack featuring twenty chiptuned remixes of stage music from several Mega Man series games. The soundtrack was first made available at the Tokyo Game Show held September 2009 and later released for retail sale in Japan October 2009. The booklet features detailed linear notes by producers Ippo Yamada and hally, profiles of the arrangement artist, and artwork by Hitoshi Ariga.
Track list
1.
Kaze Yo Tsutaete (Buster Core Meltdown mix)
4:03
2.
Tornadoman Stage (Integer Spin mix)
5:01
3.
Special Stage (Handy remax)
3:11
4.
Oilman Stage, Timeman Stage (200621978 mix)
3:21
5.
Opening Stage (LSI-Babe mix)
3:52
6.
Groundman Stage (Unlimited Overdub mix)
4:01
7.
Tenguman Stage (Back to 2a03 mix)
2:41
8.
Slashman Stage (Dot Matrix Dinosaur mix)
3:24
9.
Megawater_S Stage, WILY TOWER 4 (Area-2A03 Navy mix)
3:25
10.
Mercury Stage (Light Shuffle mix)
4:12
11.
Blizzardman Stage (DPCM'n Bass mix)
3:06
12.
Gravityman Stage (Aftermath Sleaze Edit)
4:36
13.
Brightman Stage (Portable mix)
4:38
14.
Wily Stage 2 (Extended ChiProg mix)
4:40
15.
Shadowman Stage (Big Boot mix)
3:51
16.
Opening, Snakeman Stage (2A03+VRC7 mix)
4:09
17.
Bubbleman Stage (Rockman's RPG mix)
4:01
18.
Woodman Stage, Wily Stage 1 (Respect2dabeat Mix)
2:52
19.
Fireman Stage (FC DPCM-additional mix)
3:10
20.
Cutman Stage (Misty mix)
3:39
Disc length- 75:53
Credits
from Rockman Battle & Chase / Composition: Yoshinori Ono / Arrangement: Chibi-tech
from Rockman 9: The Ambition's Revival!! / Composition: Ippo Yamada / Arrangement: Virt
from Rockman 9: The Ambition's Revival!! / Composition: Ryo Kawakami / Arrangement: Goto80
from Rockman Rockman / Composition: Toshihiko Horiyama / Arrangement: Ippo Yamada
from Rockman & Forte / Composition: Naoshi Mizuta / Arrangement: Akari Kaida
from Rockman & Forte / Composition: Akari Kaida / Arrangement: Hiroki Isogai
from Rockman 8: Metal Heroes / Composition: Shusaku Uchiyama / Arrangement: Rushjet1
from Rockman 7: Destined Showdown! / Composition: Yuko Takehara / Arrangement: K->
from Rockman Mega World / Composition: unknown / Arrangement: Manabu Namiki
from Rockman World 5 / Composition: unknown / Arrangement: Saitone
from Rockman 6: The Greatest Battle in History!! / Composition: Yuko Takehara / Arrangement: hally
from Rockman 5: Blues' Trap!? / Composition: Mari Yamaguchi / Arrangement: Zinger
from Rockman 4: A New Evil Ambition! / Composition: Minae Fujii / Arrangement: Saskrotch
from Rockman 4: A New Evil Ambition! / Composition: Minae Fujii / Arrangement: Ryo Kawakami
from Rockman 3: The End of Dr. Wily!? / Composition: Yasuaki Fujita / Arrangement: Nobuyuki Shioda
from Rockman 3: The End of Dr. Wily!? / Composition: Yasuaki Fujita / Arrangement: KPLECRAFT
from Rockman 2: The Enigma of Dr. Wily / Composition: Takashi Tateishi / Arrangement: Dong
from Rockman 2: The Enigma of Dr. Wily / Composition: Takashi Tateishi / Arrangement: USK
from Rockman / Composition: Manami Matsumae / Arrangement: naruto
from Rockman / Composition: Manami Matsumae / Arrangement: Manami
Staff
Producer, Supervisor: Ippo Yamada
Assistant Producer: hally
Mastering: Ryo Kawakami (INTI)
Design Direction: Ippo Yamada, Hitoshi Ariga
Layout, Label Design: M
Liner Notes: Yoshihisa Kodama, hally
Special Thanks: Keiji Inafune (CAPCOM), Hironobu Takeshita (CAPCOM), Tetsuya Ohno (CAPCOM), Izuru Matsumoto (CAPCOM), Shigeto Ikehara, Kunihito Takashima (INTI), Yoshihiro Sakaguchi (MEDIARTE), Takashi Tateishi (MOST COMPANY), Yasuaki "BUN BUN" Fujita, Minae "OJALIN" Fujii, Mari Yamaguchi, Yuko Takehara, Makoto Tomozawa (DIMPS), Shusaku Uchiyama, Naoki Horii (M2), Kanami Araki (KING MUSIC), All Capcom Staff, and All Inti Creates Staff
Sales Promotion: Go Maeda
Executive Producer: Takuya Aizu
Gallery
External links