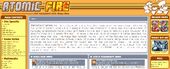 Atomic Fire was a 2005-2007 Mega Man fansite. The site merged with The Mega Man Network in October 2007. This category contains images from the Official Art section of this site and The Mega Man Network site.
Media in category "Atomic Fire"
The following 200 files are in this category, out of 399 total.