Cards
Talk

0
3,619pages on
this wiki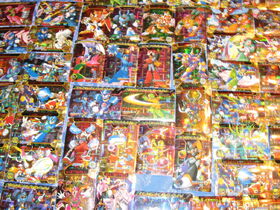 Several type of cards from the Mega Man series.
Trading Card Games
Carddass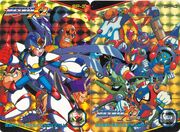 Carddass, also known as Carddas, is the name given to Bandai's card vending machines and the cards obtained from them. All Mega Man Carddass where released only in Japan.
Rockman: Six series of Carddass with a total of 252 cards containing images from Rockman 1-7 and Rockman World 1-5.
Rockman X: Three series of Carddass, each from one of the first three Rockman X games, having a total of 126 cards.
Rockman X Revival: 84 cards from Rockman X and Rockman X2.
Rockman X Mega Mission: Three series of Carddass with original characters and stories.
Jumbo Carddass: Bigger cards. Two series of Carddass, one from Rockman X and other from Rockman X Mega Mission, containing nine cards each.
Jumbo Carddass Chip Shooter: A Jumbo Carddass that comes with 15 chips (pogs) each. There are 6 cards with 90 different chips from Rockman X1-3 and 3 cards with 45 chips from Rockman X Mega Mission.
All Capcom World '98: A series of Carddass from 1998 featuring several Capcom characters, including the Mega Man series.[1]
Barcode cards
Cards with barcodes that are used to play.
Super Barcode Wars: A Japanese handheld game system with a barcode reader released by Bandai that had a series of compatible cards from different media such as Gundam, Ultraman, and Dragon Ball Z released for the system. The game was very popular in Japan, and had a manga based on it, called Super Barcode Warriors. Card sets from the Rockman series where released for the system in 1992[2] and in the Super Barcode Wars Battle Game Set #5.[1]
e-Reader Modification Cards
Cards that can modify the content of games with a e-Reader.
Telephone cards
Promotional telephone cards:
Others
See also
References