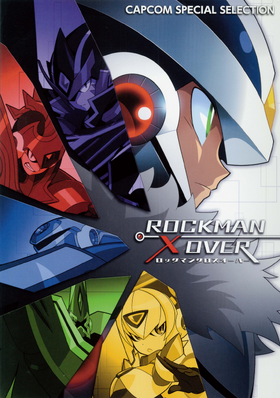 Capcom Special Selection: Rockman Xover is a soundtrack for Rockman Xover released on September 25, 2014. Four bonus arrangement tracks by game composer Masahiro Aoki are included.
All tracks made for this game are included in this release with the exception of Aoki's arrangement of "Airman ga Taosenai", which is excluded due to licensing issues.
Like all Capcom Special Selection releases, the soundtrack includes a book with art from the game.
Track listing
Theme of Rockman Xover
Master Boss
Battle Arena
Won the Match!
Lost the Match...
Arcade Man
Theme of Rockman Xover -arrange version-
Attack
Arcade Man -8bit version-
Net Battle
Opening Stage
Stage Select
VS. Nebula Gray
Title
Sun God
Battle Tower
New World
Breakthrough
Big Four
Duel of the Fates
See also
External links
Ad blocker interference detected!
Wikia is a free-to-use site that makes money from advertising. We have a modified experience for viewers using ad blockers

Wikia is not accessible if you've made further modifications. Remove the custom ad blocker rule(s) and the page will load as expected.