Capcom Special Selection: Rockman DASH 2 is one of the three "Capcom Special Selection" soundtracks that where distributed in the Tokyo Game Show 2009 in September, and later available on sale in October 1, 2009 in Japan. The album, which comes in a simple clear jewel case, contains 17 musics from Mega Man Legends 2 and a booklet with artwork and concept art of the game. The other two soundtracks are from the games Gotcha Force and Rival Schools.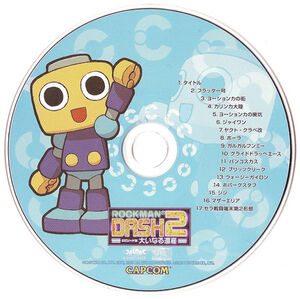 Track list
Title
The Flutter
Yosyonke town
Calinca continent
Yosyonke's abandoned mine
Mother Area
Sera battle form 2
External links
Ad blocker interference detected!
Wikia is a free-to-use site that makes money from advertising. We have a modified experience for viewers using ad blockers

Wikia is not accessible if you've made further modifications. Remove the custom ad blocker rule(s) and the page will load as expected.