Burst Man
Talk

0
3,565pages on
this wiki


Burst Man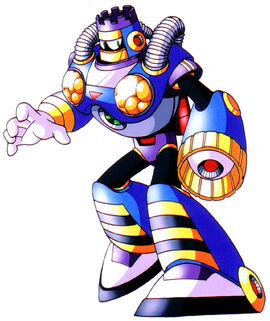 {{{nickname}}}
DWN-051
{{{numberb}}}
Information
In-Game Information

Command Mission Stats

Type
--
Level
Life Energy
--
--
Fire
--
Exp.
--
Water
--
Zenny
--
Thunder
--
FME
--
Power
Armor
Shield
Speed
--
--
--
--
Steal
Drop
--
--

List of Abilities
Ability
Effect
{{{ability1}}}
---
{{{ability2}}}
---
{{{ability3}}}
---
{{{ability4}}}
---
{{{ability5}}}
---
{{{ability6}}}
---
{{{ability7}}}
---
{{{ability8}}}
---
{{{ability9}}}
---
{{{ability10}}}
---
{{{ability11}}}
---
{{{ability12}}}
---
{{{ability13}}}
---
{{{ability14}}}
---
{{{ability15}}}
---

HP:
28 MM7
Attack Damage:
4 (contact)
4 (Danger Wrap)
4 (stray bomb)
Weapon:
Danger Wrap
Weakness:
Freeze Cracker / Scorch Wheel
Misc. Information
Script:
バーストマン
Romaji:
Bāsutoman
Designer:
Keishi Tsuchiya
Eye Color:
Green
Series Information
In-game Appearances:
Mega Man 7
Mega Man & Bass (as a data CD)
Rockman Strategy
Burst Man (バーストマン, Bāsutoman?) is a Robot Master from Mega Man 7 that was originally created to guard a chemical plant in Edo City, but was stolen and modified for combat by Dr. Wily. Burst Man loves festivals and shoots his bombs as fireworks. His body has several explosives and soapy substances (much to Turbo Man's dismay), which he can use to attack by encasing enemies in bubbles or using the Danger Wrap, a bomb encased in a bubble. Because of the liquid substances in his body, he is vulnerable to sudden changes in temperature. He is weak to Freeze Cracker and Scorch Wheel, and drops several bombs when hit by them.
Data
Stage description: Bomb Bomber Bombest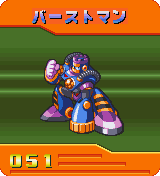 • CD data •
English data
An enthusiastic festival-goer. He loves watching fireworks and shooting bombs as fireworks.
"This is my passion"
Good Point:
Optimistic
Bad Point:
Happy-go-lucky
Like:
Nightlong binge
Dislike:
Steady efforts
Japanese data
Raised in the lively Edo City. He is restless during a season of festivals.
"Explosions are an art!"
Good Point:
Party director
Bad Point:
Cowardice
Like:
Hot bath
Dislike:
Steady efforts
Stage enemies
Damage Data Chart
Displays the amount of damage in units that Burst Man will receive from each Special Weapon in Mega Man 7.
*For Mega Buster, Wild Coil and Noise Crush, the first number is the damage done when the weapon is fired normally; the second number is damage done when the weapon is charged up.
*For Freeze Cracker, the first number is when the shot is whole; the second number is after it splits.
Other media
Burst Man appeared in the manga Rockman 7 and Mega Man Gigamix.
Gallery
Trivia