Bubble Lead
Talk

0
3,568pages on
this wiki


Bubble Lead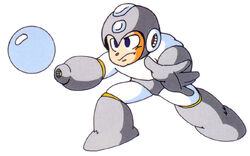 Mega Man using Bubble Lead.
Weapon Information
Script:
バブルリード
Romaji:
Baburu Rīdo
In-Game Information
Obtained From:
Bubble Man
Effective Against:
Cost:

Per use:

Mega Man 2:
1/2 unit

Capacity:

No. of uses:

Mega Man 2:
56 uses

Type:
Water, Floor
Series Information
In-game Appearances:

Bubble Lead (バブルリード, Baburu Rīdo?) is Bubble Man's Special Weapon. When equipped by Mega Man, he shoots a heavy bubble that rolls around on the ground. If used against Bubble Man in the final stages, it will actually replenish all of his health. Bubble Lead is Heat Man's weakness, but he is immune to it when he's fully ignited or when using his fire charge attack. Bubble Lead can also scale down walls, but can only do so if the bubble is rolling on the ground in the first place. It can also be used to detect traps in the floor of the fourth Wily Castle stage.
The Bubble Man Doc Robot from Mega Man 3 also uses Bubble Lead, along with the weapons from the other Robot Masters from Mega Man 2, but Mega Man cannot take it from him. Mega Man is also equipped with the Bubble Lead in the scenes shown by Rush in the ending of Mega Man 9. Bubble Lead is the only weapon that can damage the Alien in Mega Man 2, as all other weapons will fully replenish its health.
Damage Data Chart
Damage values in units in Mega Man 2.
Bubble Lead (B)
Boss
Damage
Normal
Difficult
Metal Man
0
0
Air Man
0
0
Bubble Man
+
+
Quick Man
0
0
Crash Man
2
1
Flash Man
4
2
Heat Man
10
5
Wood Man
0
0
Mecha Dragon
0
0
Picopico-kun
3
3
Guts-Dozer
2
1
Boobeam Trap
0
0
Wily Machine No. 2: 1st Phase
0
0
Wily Machine No. 2: 2nd Phase
0
0
Alien
2
1
*Any data with a "+" represents the weapon actually restoring the boss's health.
Bosses Weak Against Bubble Lead
Bosses Immune To Bubble Lead
Screenshots
Trivia
There has been some debate over the weapon's real name. Some say it is pronounced led, as in a lead pencil, signifying that the bubble is made of heavy lead and explaining the way it falls when it reaches an edge. Others say it is pronounced leed, as in leading a horse to water, signifying that the bubble leads Mega Man as it travels along in front of him, and in fact can be used to find the hidden floors in one of the Wily stages in Mega Man 2. The Japanese name of the weapon is pronounced in this latter way, as can be seen in, for instance, his Super Adventure Rockman appearance.