Break Man
Talk

6
3,619pages on
this wiki


Break Man

{{{nickname}}}
{{{number}}}
{{{numberb}}}
Information
In-Game Information

Command Mission Stats

Type
--
Level
Life Energy
--
--
Fire
--
Exp.
--
Water
--
Zenny
--
Thunder
--
FME
--
Power
Armor
Shield
Speed
--
--
--
--
Steal
Drop
--
--

List of Abilities
Ability
Effect
{{{ability1}}}
---
{{{ability2}}}
---
{{{ability3}}}
---
{{{ability4}}}
---
{{{ability5}}}
---
{{{ability6}}}
---
{{{ability7}}}
---
{{{ability8}}}
---
{{{ability9}}}
---
{{{ability10}}}
---
{{{ability11}}}
---
{{{ability12}}}
---
{{{ability13}}}
---
{{{ability14}}}
---
{{{ability15}}}
---

HP:
24
Attack Damage:
2 (shots)
4 (contact)
Weakness:
None
Misc. Information
Script:
ブレイクマン
Romaji:
Bureikuman
Series Information
In-game Appearances:
Mega Man 3
Mega Man: The Wily Wars
{{{sprite}}}
Break Man (ブレイクマン, Bureikuman?) is an alias used by Proto Man in Mega Man 3. As Break Man, Proto Man's helmet covers his entire head, similar to the Sniper Joe's helmets (even with the single eye). It is unknown what this "transformation" changed in Proto Man and why he uses it in his last battle, but it is believed to be just a disguise to hide his identity from Dr. Light. The key difference is that in this form, Proto Man will not take damage from any Special Weapon—only the Mega Buster can damage him. Also, his shots are slightly bigger in this form, but they cause the same amount of damage as Proto Man's.
Proto Man will only appear as Break Man when all four Doc Robot stages are completed. After his defeat, Mega Man will return to Dr. Light's Laboratory, where Dr. Light announces that Dr. Wily has stolen Gamma.
In other media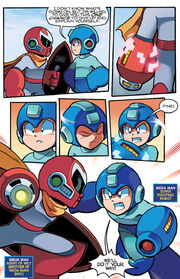 In issue #16, after Blues is repaired by Dr. Wily in the Lanfront Ruins, he agrees to work for him out of gratitude. Not fond of using his old name of Blues or Dr. Wily's initial suggestion of Proto Man, the two settle on Break Man.
Break Man makes a cameo in the ending of #issue 21, where he sees the year "20XX" reflected off his helmet.
In issue #23, the newly christened Break Man, after being shown a report of Mega Man's birthday by Dr. Wily with the obvious intent of trying to claim that Mega Man replaced him, angrily flees Dr. Wily's lab to "attend" to Mega Man's party, disrupting the key-giving ceremony, and also proceeded to attack Guts Man, Bomb Man, and Cut Man, easily and savagely defeating them. Break Man then introduces himself to Mega Man and stated that he "broke them," to Mega Man's anger. They then battled, and with Break Man proceeding to fight Mega Man and easily defeated him. When Mega Man requests that when Break Man "breaks" him, he at least spares his I.C. chip so Light's heart isn't broken. This causes Break Man to remember his past as Proto Man/Blues with Dr. Light. Overcome with grief, Break Man attempts to flee, but is stopped by Mega Man by grabbing his scarf, due to the damage Break Man caused. He then attempts to remove his helmet, but is stopped when witnessing that everything's turning white, thanks to the Genesis Wave caused by Wily and his new partner, Dr. Eggman.
In the Post-Genesis Wave world, Break Man became Proto Man as the world had progressed into the future. Though just as Shadow the Hedgehog takes leave through Chaos Control, reality is briefly distorted, causing both Sonic the Hedgehog and Mega Man to recall their Pre-Genesis Wave battles (Mecha Sally and Break Man respectively).
After the Genesis Wave was undone, Break Man and Mega Man continued their fight, after the former refused to reveal his motives to the latter. Roll managed to quell the fighting long enough to reveal to Mega Man that Break Man might actually be his long lost brother Blues, although Break Man ended up accidentally shooting Roll after she intercepted one of his shots towards Mega Man. After Ra Moon started interfering with several electronics, and by extension Mega Man, Break Man was left only to watch as Mega City collapsed into chaos from the electronics shutdown. Break Man was responsible for aiding in Mega Man's restoration, by grudgingly supplying Dr. Light with a flash drive containing the formula for the liquid due to anger at how much the EMP wave's damage had spread. Break Man later returned to the Lanfront Ruins and learned from Dr. Wily that Ra Moon had betrayed the latter.
He later was dispatched to scout out the situation, and eventually to determine whether Dr. Wily's first robots are still loyal to him or not. Break Man later encounters Mega Man and explains the situation, including Ra Moon being the one responsible for the EMP wave. He also tells them about a secret entrance to the Temple of the Moon, although he unknowingly revealed the information to Ra Moon thanks to one of Snake Man's Search Snakes. He later participated in the battle against Ra Moon, although after an unexpected setback where Ra Moon ended up taking control of what was to be Wily's contingency plan against Ra Moon, Ra Thor, as well as nearly getting killed, Break Man requested that, in the event he doesn't make it out alive, that he apologize to Roll for him, before Mega Man told him they will make it out alive. Break Man later advised Mega Man, during his fight with Ra Thor, to use the copy chip and variable weapons system to defeat Ra Thor. Break Man later managed to finish off Ra Thor after a salvo of attacks from Mega Man weakened Ra Thor (with a significant drain from his variable weapons in the process), and later bore witness to Mega Man's sacrifice against Ra Moon.
Break Man later acted as the de-facto leader for both the second and third generations of Robot Masters, due to Dr. Wily leaving Light Labs to keep his promise to Mega Man to bring him back to Dr. Light as well as repairing him (as well as ending up arrested for his assumed role in the EMP wave). During this time, he led the Robot Masters in a manhunt for Shadow Man, later revealed to be to recruit him into their forces. Break Man, upon learning of Mega Man and a group of individuals presence in Lanfront Ruins, after briefly being overjoyed at Roll's survival, came up with the idea to have Mega Man lead them to Shadow Man when it became apparent that he was eluding them. After successfully recruiting Shadow Man, Break Man briefly separated from the group to ask Quake Woman what it meant to have a family.
Proto Man appears as Break Man in "Asteroid Blues". He protects Mega Man from Needle Man and Gemini Man, but than proceeds to destroy Reggae and fight Mega Man. During the battle he is distracted when he sees Dr. Light, and his mask is broken by Mega Man, causing Dr. Light to recognize him.
Damage Data Chart
Amount of damage in units that Break Man receives from each Special Weapon in Mega Man 3.
Mega Man 3
Mega Buster
Needle Cannon
Magnet Missile
Gemini Laser
Hard Knuckle
Top Spin
Search Snake
Spark Shock
Shadow Blade
1
0
0
0
0
0
0
0
0
Gallery
Trivia
In the ending for Mega Man 3, Dr. Light recognizes Proto Man's signature whistle, revealing that Break Man was in fact Proto Man.
It seems that initially Proto Man was designed to have an animation for transforming to and from Break Man. The animation was removed before the game's release; he instead appears without making the transformation.[1]
Break Man's name may be a reference to a popular style of street dance, B-boying, which is often referred to as "breakdancing".
Break Man's mugshot features him having red shoulders and a blue glare on his visor, while the ingame sprite shows him having grey shoulders and an orange glare. However, this could be due to the NES sprite limitations.
See also
References