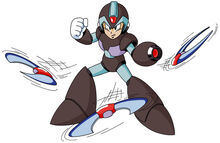 Boomerang Cutter (ブーメランカッター, Būmeran Kattā?) is the Special Weapon that X obtains from defeating Boomer Kuwanger in Mega Man X. When equipped, X can fire crescent-shaped boomerangs that fly in a short arc before returning to X (they will arc upward if X is standing and downward if he is in the air). The Boomerang Cutters can be used to grab far away items and will sometimes return weapon and life energy from defeated enemies. X recovers any Weapon Energy used from Boomerang Cutters that return without being destroyed. Up to three cutters can be present on the screen at a time. When fully charged, four larger boomerangs spiral outward diagonally from X's position. Charged Boomerang Cutters can not retrieve items. When deflected by immune enemies, the Cutter does not return to X. The charged version in Mega Man Maverick Hunter X has some changes. Instead of spiralling out from X's position, the four large boomerangs simply shoot out and return to X a few times in straight lines before spreading out and the size of each large boomerang is twice the size as compared to the original version.
This weapon is the weakness of Sting Chameleon and D-Rex, Vile will also takes considerable amount of damage from charged Boomerang Cutter as well.
Damage Data Chart
Damage values in units in Mega Man X.
Boomerang Cutter
Boss
Damage
Normal
Charged
Chill Penguin
1
2
Spark Mandrill
1
2
Armored Armadillo
1
2
Launch Octopus
1
2
Boomer Kuwanger
1
2
Sting Chameleon
3
4
Storm Eagle
1
2
Flame Mammoth
1
2
Vile
2
6
Bospider
1
2
Rangda Bangda
1
2
D-Rex
3
4
Velguarder
1
2
Sigma: 1st Phase
1
1
Sigma: 2nd Phase
0
0
Screenshots
Mega Man X
Mega Man Maverick Hunter X
Trivia
See also
Similar Weapons
Ad blocker interference detected!
Wikia is a free-to-use site that makes money from advertising. We have a modified experience for viewers using ad blockers

Wikia is not accessible if you've made further modifications. Remove the custom ad blocker rule(s) and the page will load as expected.