Blizzard Buffalo
Talk

0
3,452pages on
this wiki


Blizzard Buffalo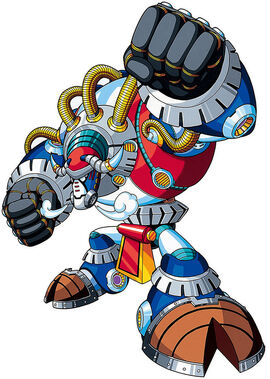 Silvery Snowman
{{{number}}}
{{{numberb}}}
Information
In-Game Information

Command Mission Stats

Type
--
Level
Life Energy
--
--
Fire
--
Exp.
--
Water
--
Zenny
--
Thunder
--
FME
--
Power
Armor
Shield
Speed
--
--
--
--
Steal
Drop
--
--

List of Abilities
Ability
Effect
{{{ability1}}}
---
{{{ability2}}}
---
{{{ability3}}}
---
{{{ability4}}}
---
{{{ability5}}}
---
{{{ability6}}}
---
{{{ability7}}}
---
{{{ability8}}}
---
{{{ability9}}}
---
{{{ability10}}}
---
{{{ability11}}}
---
{{{ability12}}}
---
{{{ability13}}}
---
{{{ability14}}}
---
{{{ability15}}}
---

HP:
32
Attack Damage:
5 (contact)
5 (Horned Wall Slam)
3 (Frost Shield, projectile)
3 (Frost Shield, hazard)
0 (Ice Beam)
Weapon:
Frost Shield
Weakness:
Parasitic Bomb
Misc. Information
Japanese Name:
Frozen Buffalio
Kanji:
フローズン・バッファリオ
Romaji:
Furōzun Baffario
Series Information
In-game Appearances:
Mega Man X3
Mega Man X4 (cameo)
Other Appearances:
Rockman X (manga)
Theme Music
Frozen Buffalio's stage theme:

---

---

Blizzard Buffalo, known as Frozen Buffalio (フローズン・バッファリオ, Furōzun Baffario?) in Japan, is a Bison-based Maverick in Mega Man X3. In reality, though, he's really a peace-loving artist, even with the Maverick Virus. So he is (for all intents and purposes) another innocent victim of the Maverick Wars. His original occupation was as an ice sculptor for a ski resort.
Like Flame Mammoth before him, his room is much larger, requiring X to damage him while he's on screen. When his health is depleted by 50%, Blizzard Buffalo shoots a very large ice beam that will freeze X if it connects.
Mega Man X3 stats:
Edit
Power: 9200rp
Speed: 3200rp
Stage enemies
Edit
Enemies in Blizzard Buffalo's stage:
Other Media
Edit
Rockman X
Edit
In the Rockman X3 manga, during his Maverick rampage, he was stopped by an innocent human boy who knew more about him than anyone else did, giving X an advantage in defeating him by destroying his horns that made him go Maverick. He later joins the Maverick Hunters alongside Blast Hornet, Neon Tiger, and Tunnel Rhino, in which he assisted X and Zero in battle against Bit and Byte.
In Rockman X4, he also fought alongside X against Frost Walrus, but he ended up sacrificing his life to save X.
In the CD versions of Mega Man X3, Blizzard Buffalo's name is misspelled as "BILZZARD BUFFALO" in his introductory cutscene.
His stage is normally frozen over. However, if you defeat Volt Catfish before entering Buffalo's stage, the lights return and melt the ice, making the stage less slippery.
You can easily exploit a programming error to defeat him, by jumping up as he turns around after rushing into the wall, he will turn around and slam back into the wall. This allows you to take minimal damage and defeat him with only the X buster.