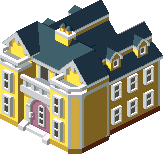 "This gigantic building is Yai's house. Although "mansion" is probably a better word for it."
The Ayanokoji Home (綾小路家, Ayanokouji ke?) is the home of the Ayanokoji family, including Yai Ayanokoji. It is attacked by Arashi and AirMan in Mega Man Battle Network 2, making the place fill with gas. Lan and MegaMan enter the Gas Computer and rescue Yai.
Other media
In the MegaMan NT Warrior, the Ayanokoji home is bigger than the games, having several high-tech devices and many maids working on it. In episode 52, it is shown that one part of the mansion is not used and is filled with traps to attack intruders, and the mansion is able to transform into a giant flying mecha.
Gallery
Ad blocker interference detected!
Wikia is a free-to-use site that makes money from advertising. We have a modified experience for viewers using ad blockers

Wikia is not accessible if you've made further modifications. Remove the custom ad blocker rule(s) and the page will load as expected.