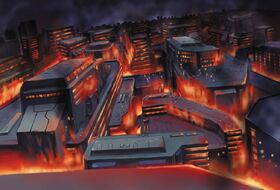 Area G (Fire Site) is an Inner area from Mega Man ZX set ablaze by Mavericks, led by Fistleo the Predatoroid, holder of Biometal Model F. During the mission for this area, Vent/Aile must rescue Townspeople and Guardian members from the burning buildings.
The soundtrack for this area is called Ogre Claw.
Enemies
Other media
Area G appears in the Mega Man ZX manga.
Ad blocker interference detected!
Wikia is a free-to-use site that makes money from advertising. We have a modified experience for viewers using ad blockers

Wikia is not accessible if you've made further modifications. Remove the custom ad blocker rule(s) and the page will load as expected.