Aqua Man
Talk

14
3,619pages on
this wiki


Aqua Man
{{{nickname}}}
DWN-064
{{{numberb}}}
Information
In-Game Information

Command Mission Stats

Type
--
Level
Life Energy
--
--
Fire
--
Exp.
--
Water
--
Zenny
--
Thunder
--
FME
--
Power
Armor
Shield
Speed
--
--
--
--
Steal
Drop
--
--

List of Abilities
Ability
Effect
{{{ability1}}}
---
{{{ability2}}}
---
{{{ability3}}}
---
{{{ability4}}}
---
{{{ability5}}}
---
{{{ability6}}}
---
{{{ability7}}}
---
{{{ability8}}}
---
{{{ability9}}}
---
{{{ability10}}}
---
{{{ability11}}}
---
{{{ability12}}}
---
{{{ability13}}}
---
{{{ability14}}}
---
{{{ability15}}}
---

HP:
40
Attack Damage:
6 (contact)
6 (Water Balloon)
7 (Water Cannon)
8 (Water Column)
6 (Water Column splash)
Weapon:
Water Balloon
Weakness:
Astro Crush
Misc. Information
Script:
アクアマン
Romaji:
Akuaman
Designer:
Morito Kuriki
Eye Color:
Red
NetNavi Counterpart:
AquaMan.EXE / SpoutMan.EXE
Series Information
In-game Appearances:
Mega Man 8
Mega Man & Bass (as a data CD)
Rockman Strategy
English VA:
Michelle Gazepis
Japanese VA:
Chika Sakamoto

Aqua Man (アクアマン, Akuaman?) is a water-themed Robot Master created by Doctor Wily in Mega Man 8. Wily had ordered more parts than necessary for modifying Clown Man and intended to create Frost Man with the extra parts, but failed at creating an ice machine on his first attempt. Wily then converted the machine into a water tank, creating Aqua Man. He is one of the eight Robot Masters built to protect the barrier to "Wily Tower", and was put in an abandoned underwater laboratory off the east coast of Madagascar. He seems to have a bit of a flamboyant personality, evidenced by some of his taunts to Mega Man when encountering him, as well as using a rainbow to spell out his name.
Data
Voices
Intro
Taunts
"I'm Aqua Man! But you can call me Handsome Guy."
"Finally it's my turn! I'm Aqua Man!"
"I've been waiting for you!"
Attack shouts
"Try this!"
"Water Cannon!"
"Water Balloon!"
Cries
"Aye aye aye!"
"No!" (hit by Astro Crush)
Death
Mega Man & Bass CD data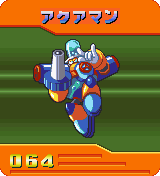 • CD data •
English data
Having stored the water in the body, he controls it for attack. He is recently suffering from a pot belly.
"Who opened their lunch?"
Good Point:
Facetious robot
Bad Point:
Porky
Like:
Toilet humor
Dislike:
Serious drama
Japanese data
Like:
Puns, dirty jokes
Dislike:
Serious situations
Stage enemies
Enemies in Aqua Man's stage.
Gallery