Appearing Block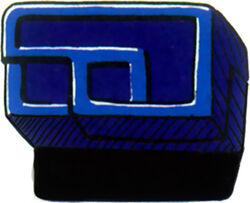 Appearing Block from Mega Man: Dr. Wily's Revenge
{{{nickname}}}
{{{number}}}
{{{numberb}}}
Information

Command Mission Stats

Type
--
Level
Life Energy
--
--
Fire
--
Exp.
--
Water
--
Zenny
--
Thunder
--
FME
--
Power
Armor
Shield
Speed
--
--
--
--
Steal
Drop
--
--

List of Abilities
Ability
Effect
{{{ability1}}}
---
{{{ability2}}}
---
{{{ability3}}}
---
{{{ability4}}}
---
{{{ability5}}}
---
{{{ability6}}}
---
{{{ability7}}}
---
{{{ability8}}}
---
{{{ability9}}}
---
{{{ability10}}}
---
{{{ability11}}}
---
{{{ability12}}}
---
{{{ability13}}}
---
{{{ability14}}}
---
{{{ability15}}}
---

Misc. Information
Japanese Name:
Appearing Block
Kanji:
出現ブロック
Romaji:
Shutsugen Burokku
Alt. Name(s):
Buzzing Block
Vanish Block
Disappearing Block
Yoku Block (fandom nickname)
{{{sprite}}}
Appearing Blocks (出現ブロック, Shutsugen Burokku?)[1], also known as Bun Blocks (ブーンブロック, Būn Burokku?, "Buzzing Blocks", also written as ブンブロック)[2], Tenmetsu Blocks (点滅ブロック, Tenmetsu Blocks?)[3], Vanish Blocks[4], or simply Blocks, are recurring obstacles in various Mega Man games, notably the original Mega Man series. Appearing Blocks are temporary platforms which appear and disappear in a specific pattern at a set interval (usually one second). The player can stand on them while they are solid. Groups of them form block patterns which often require memorization to pass and are considered some of the hardest obstacles required to pass without using special items or Rush. They are usually found with hazards such as spikes, enemies and bottomless pits.
Appearances
Other media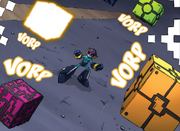 Appearing Blocks appeared in the Skull Egg Zone and Wily Egg in Worlds Collide and while the worlds were being merged by the Unity Engines in Worlds Unite.
Other appearances
Appearing Blocks are present in the manga Rockman: Dr. Wily no Inbou, Rockman 5, and Rockman 7.
Gallery
References
Ad blocker interference detected!
Wikia is a free-to-use site that makes money from advertising. We have a modified experience for viewers using ad blockers

Wikia is not accessible if you've made further modifications. Remove the custom ad blocker rule(s) and the page will load as expected.