Anubis, Poison Anubis (ポイズンアヌビス, Poizun Anubisu) in Japan, is a battle chip that summons a statue to release poison. It continually drains the player's HP until either the statue is destroyed or the user is destroyed. This attack is used by PharaohMan.EXE during the battle against him.
Anubis appears in episode 25. This virus is soo dangerous it can turn any threat into stone. However, it can easily be deleted within a mere hit as when Sharkman fin-cutted it. But as a consequence he got turned into stone
It was mention by Higsby in episode 16 of Axess as one of the battle chips to break Aquaman's invinsible barrier along with Poison Face, but neither he nor Netto possess any.
Battle Chip Information by Game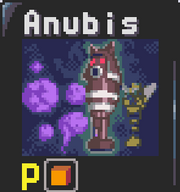 In Mega Man Network Transmission, it does a specific amount of damage per hit by waves that come off of it that fill the entire screen (20).
Program Advance
Anubis can be used to do the
Program Advance
Poison Pharaoh
. This Program Advance summons a Poison PharaohMan statue to appear on the field. It has the same effect as Anubis, but it is more powerful and drains HP twice as fast as Anubis.
Mega Man Battle Network 2 - PoisonMask + PoisonFace + Anubis (all with same code)
Mega Man Battle Network 3 - PoisonMask + PoisonFace + PoisonAnubis (all with same code)
Mega Man Battle Network 4 - DarkHole * + DarkLine * + PoisonAnubis A
Mega Man Battle Network 5 - BugBomb A + Geddon3 A + Anubis A
Mega Man Battle Network 6 - PoisSeed * + PoisSeed * + Anubis A