Ad blocker interference detected!
Wikia is a free-to-use site that makes money from advertising. We have a modified experience for viewers using ad blockers

Wikia is not accessible if you've made further modifications. Remove the custom ad blocker rule(s) and the page will load as expected.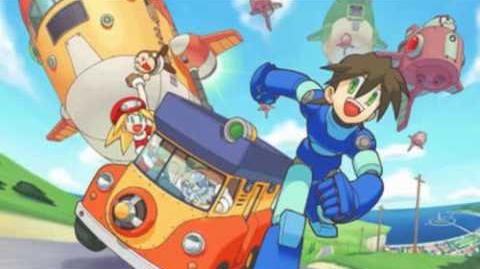 Another Sun is a song from the Japanese version of Mega Man Legends that can be heard in Kattelox Island's High Necked Record Shop in Apple Market,[1] the English version replacing it by a "pop music". It is also the music from one of the game's commercials. Song lyrics by Tomori Ayumi, composed by Fukuda Tarou, arranged by Nishimura Masatoshi and sung by Reika Morishita.
Another Sun was released as a CD single in 1997 alongside Anata no Kaze ga Fuku Kara, as part of the Rockman DASH Original Soundtrack in 1998 and in the Rockman Theme Song Collection in 2002. In September 12, 2012, Reika Morishita released an arrangement of the song, "Another Sun 2012", as a digital download.[2]
Lyrics
Kanji
あなたと同じ空 思いきり 感じたいよ
他の人のと違う太陽の存在を確かめながら
愛しあいたい
昨日見た夢を どうしても思い出せなくて苛立ってた朝
伝えたい思い共通語(ことば)を
探し出せないままくすぶらせてたね
理論武装の妥協なら そこらじゅうに転がっている
飼い慣らすことのできない心の叫び 聞こえてたよ
あなたにしか見えないものがある そらさないで
それは一体 どんな形してどんな色なのか教えて欲しい
あなたにしかできないことがある 迷わないで
失うものがあればあっただけ 欲望をつのらせていけば
それでいいから
おかしくいないのに
周りにあわせて笑えない あたりまえだわ
山積みの嘘が
バランス崩し降ってきたら 逃げ出しておいで
オトコは泣いちゃいけないと誰が行った? 誰がきめた?
ここにいるから ずっとそばにいるから
もう孤独(ひとり)じゃない
あなたにしか抱けない愛がある 見せてあげる
不器用だけど あなたの優しさ 私だけにさわらせてよ きっと
あなたにしか行けないとこがある 信じている
怖がらないで ありのままでいて
何もかも さぁこの胸に さらけだしてよ
あなたにしか見えないものがある そらさないで
それは一体 どんな形してどんな色なのか教えて欲しい
あなたにしか抱けない愛がある 見せてあげる
不器用だけど あなたの優しさ 私だけにさわらせてよ きっと
あなたにしか行けないとこがある 信じている
怖がらないで ありのままでいて 何もかも さぁこの胸に
さらけだしてよ
Original / Romaji Lyrics
English Translation

Anata to onaji kaze omoikiri kanjitai yo
Hoka no hito no to chigau taiyou no sonzai wo tashikame-nagara
Ai shiaitai

I want to feel winds like yours
While making sure that there is a sun unlike anyone else's
I want to love

Kinou mita yume wo doushite mo omoidasenakute iradatte 'ta asa
Tsutaetai omoi kotoba wo sagashidasetai mama kusuburaseta ne

An irritating morning when I can't remember my dreams
While I haven't yet found words to express the thoughts that I wish to put across

Riron busou no dakyou nara soko-ra-juu ni korogatte iru
Kainarasu koto no dekinai kokoro no sakebi kikoete 'ta yo

Tumbling amidst the compromise of a barrage of theories
I can hear the screams of the heart that can't get used to being fed

* Anata ni shika mienai mono ga aru
Sorasanai de
Sore wa ittai donna katachi shite donna iro na no ka oshiete hoshii

* There are things you alone can see
Don't lose sight of them
Tell me what form they take and what are they like

Anata ni shika dekinai koto ga aru
Mayowanaide
Ushinau mono ga areba atta dake yokubou wo tsunorasete ikeba
Sore de ii kara

There are things you alone can do
Don't lose your way
If something is lost just gather your desires
That will be enough

Okashikunai no ni mawari ni awasete waraenai atarimae da wa
Yama-zumi no uso ga baransu kuzushifutte kitara nigedashite oide

Nothing is funny and of course one doesn't laugh
Heaps of lies tip the balance If they come crumbling down get away from them

Otoko wa naicha ikenai to dare ga itta? Dare ga kimeta?
Koko ni iru kara Zutto soba ni iru kara mou hitori ja nai

Men mustn't cry? Who said so? Who decided so?
For I am here For I will always be by your side you're no longer alone

** Anata ni shika dakenai ai ga aru
Misete ageru
Bukiyou da kedo anata no yasashisa watashi dake ni sawarasete yo
Kitto

** There is a love you alone can embrace I shall show you
I may be clumsy but I want to be touched only by your kindness
Surely

*** Anata ni shika ikanai toko ga aru
Shinjite iru
Kowagaranaide ari no mama de ite nani mo ka mo saa kono mune ni
Sarakedashite yo

*** There is a place you alone can go to I believe so
Do not be afraid
Be the same in everything In my heart Rage on

* Repeat
** Repeat
*** Repeat
References