20th Anniversary Rockman 1~6 Techno Arrange Version
Talk

0
Share
Ad blocker interference detected!
Wikia is a free-to-use site that makes money from advertising. We have a modified experience for viewers using ad blockers

Wikia is not accessible if you've made further modifications. Remove the custom ad blocker rule(s) and the page will load as expected.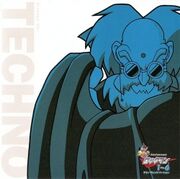 20th Anniversary Rockman 1~6 Techno Arrange Version is a soundtrack with remixed musics from Mega Man 1 to 6, released in December 19, 2007 in Japan by TEAM Entertainment.
Track listing
Stage Select mix medley (misspelled "Stage Sellect mix medley")
Elecman mix
Dr.Wily 1 (Rockman2) mix
Quickman mix
Airman mix
Heatman mix
Snakeman mix
Magnetman mix
Dr.Wily 2 (Rockman4) mix
Starman mix
Flameman mix
Elecman (Original, Short Ver.)
Dr.Wily 1 (Original, Short Ver.)
Quickman (Original, Short Ver.)
Airman (Original, Short Ver.)
Heatman (Original, Short Ver.)
Snakeman (Original, Short Ver.)
Magnetman (Original, Short Ver.)
Dr.Wily 2 (Original, Short Ver.)
Starman (Original, Short Ver.)
Flameman (Original, Short Ver.)
See also
External links